Photo Gallery
Salish Sea Circle Tour 2019
What an enjoyable trip it has been! From Sunshine Coast to Vancouver Island, we traveled all the way to the end of Highway 101, the historic village of Lund to Coombs, a bustling town with interesting unique shops among other things such as the live amusing goats on roof. Along the way, we visited different places, all with its distinct flavour and history. And so, after 4 days in each other's company, friendship forged, experience enriched and memorable moments etched on the photographs.
Brett, thank you for organizing and planning all the details of our trip; Monica, thank you for coordinating and taking care of the paperwork; and Wing, thanks to taking us everywhere safely and minding the van. Much appreciated and heartfelt thank you to the Bonsor Bus Committee!
Submitted by Stella Au
Tour Participant
October 1, 2019

[Click on a thumbnail below to view the full picture]
Bonsor 55+ Sing-a-long

The Bonsor 55+ Sing-a-long started about 20 years ago. We sing beautiful songs from the 1950s, 60s, classicals and famous Broadway musicals. We have a musical team consisting of a pianist, two guitarists, two drummers, two song leaders plus two volunteers who prepare coffee and snacks. We use a large mirrored room on the second floor of Bonsor Complex where you can dance with some of the music.
Each member is made available a song book with lyrics. You have 2 opportunities to sing a solo, duet, play an instrument or dance at each session.
We celebrate Valentine's Day, Mother's Day, Remembrance Day, Christmas, etc. We collect 50 cents for coffee or tea. Some members bring snacks, food and donate flowers.
From the feedback we received, our members enjoy the sessions very much. We grew from 25 members 4 years ago to about 45 members and our membership is still growing. Membership is free, but you must be a member of the Bonsor 55+ Society.
We meet every other Thursday from 12:45 to 2:45pm at the Bonsor Recreation Complex main building, multi-use rooms 1&2 (upstairs).
You are very welcome to join us for the nice music and have fun!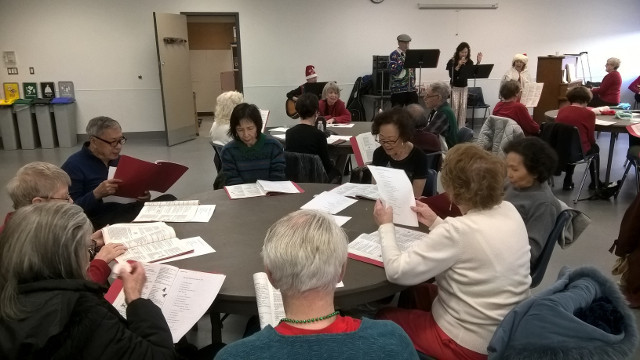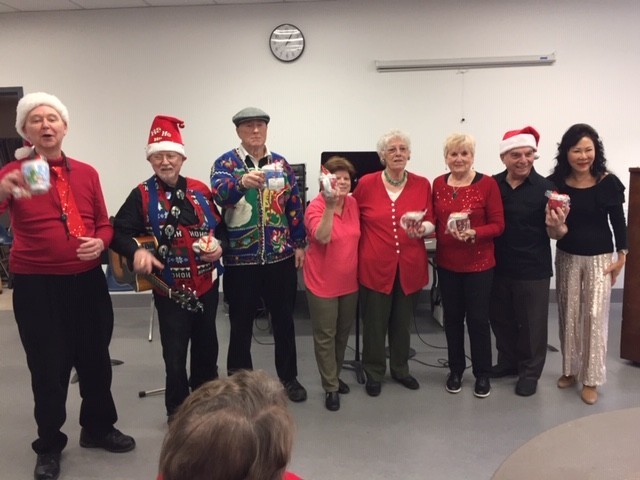 Trip to Southern Interior 2019
On the Road Again.... !
We are pleased to report that the Society has once again been able to offer its members an overnight trip.
The Bonsor MiniBus left Bonsor Recreation Complex on Monday, May 13 at 7:45a.m. with every seat filled for the start of a circle tour through Howe Sound, Whistler, Duffy Lake Road through Lillooet, Cache Creek, Kamloops, Osoyoos, and back to Burnaby via Hope-Princeton highway, with overnight in Kamloops and 2 nights in Osoyoos. The 3rd day was a scenic circle tour from Osoyoos to Penticton and back to Osoyoos, with stops for lunch and wine tastings. The Okanagan Valley was at its best in late spring greenery with blossoms and roadside flowers.
Many thanks to the volunteers who made this wonderful trip possible. Rod kept us safe on the road behind the wheel of the Bonsor Minibus, making sure the bus was in top condition at all times, including cleanups, inside and out! Brett did an excellent job of planning and organizing everything from budget, costing, route and itinerary preparations, and arrangements for accommodation. Monica looked after administrative matters for registrations.
And many thanks to an awesome group of travelers who made it all worthwhile!
Future Society trips will be promoted at the Bonsor 55+ Centre and on the Bonsor 55+ website. Sign up procedures will be advised when dates and details are available.
Submitted by Monica Robidoux
May 21, 2019

[Click on a thumbnail below to view the full picture]
Badminton Group Chinese New Year Dinner 2019
On February 15, 2019, our members welcome the year of pig with a big feast at Fraser Court Seafood Restaurant.
During the two weeks before the dinner, Vancouver was pounded with a number of heavy snow storms, seriously putting the party in jeopardy because it would be a challenge for many of our seniors to maneuver through the snow. Luckily, the weather began to warm up the day before and our party was held as planned.
The party started around 3pm. Our members sang and danced all afternoon until 6:30pm. The dinner began with a short speech from our guests of honor, Mary Horton and Michelle St. Jean. We, then, gave our president Peter McConville a surprise for his 82nd birthday. First we sang the English Happy Birthday song. Then one of our members, Clarence Wu, led the crowd to sing an impromptu Chinese Happy Birthday song, with everyone cheering and clapping.
The dinner was a traditional 10 course meal, including lots of seafood, chicken and vegetable dishes. The baked tapioca pudding rounded out the meal perfectly. We also had a lot of door prizes, like pair of Canucks tickets, Cinplex movie bundles, a pair of badminton rackets etc., all donated by our members.
The party, with 192 people attending this year, has been a popular event for the last 4 years. Everyone attended had a good time and enjoyed the food and camaraderie. Many are already looking forward to next year's event!!!
Submitted by Caroline Young
[Click on thumbnails below to view the photos]

Bonsor 55+ Mahjong Club Pre-Christmas Party 2018
This annual event was held on Thursday November 1st at New Starlet Seafood Restaurant, 65 members and 4 non-members attended the dinner party. We also invited the Board Liaison, Albert Lam and the Staff Liaison, Francis Sykora to join us. The food was great and there were a lot of door prizes, everyone had a great time.
The highlight of the party was the celebration of Mr. Po-Zay Wong's 90th birthday. Po-Zay is a long time Bonsor 55+ member and has supported the Mah Jong Club for many years, a well deserved recognition.
The party wouldn't have been this successful without everyone's participation and help, a big thank you to the executive team for putting it all together.
[Click on thumbnails below to view the photos]

Bonsor Badminton Group Year-end Party 2018
Season's greetings from the badminton group! It was again the time of year for our much anticipated Bonsor Cup tournament and lunch event. 180 people, including Mary Horton and Michelle St. Jean, gathered for lunch on November 23 and witnessed the medal ceremony for our Bonsor Cup tournament which took place earlier in the morning. We were also honored to have Teri Sabot and Ernie Kashima drop by and speak to our members.
As usual, the volunteers were already busy doing preparation from 9:30am, setting up tables, drinks, door prizes, etc. They also put together 180 small gift bags to give out at the door.
For our lunch menu, there were 3 options: chicken, pork or beef with vegetables and rice or noodles. Everyone received a large lunch box with one of the options; then rounded out with a delicious deep fried sesame ball and a custard egg tart for dessert. I heard the desserts were so delicious that they were devoured even before the lunch boxes were opened.
One of the highlights of the lunch was to celebrate the 90th birthday of one of our members, Mr. Po-Zay Wong. After the Happy Birthday song and candle blowing, he happily shared his delicious BD cake with other members.
For the 50/50 prize draw this year, the badminton executives decided to dedicate the fund to Second Street Community School. A total of $385 was raised from the ticket sales. $193 were earmarked for the school. The other half, $192, were then divided into 3 prizes: 1st prize - $92; 2nd prize - $60; 3rd prize - $40. Our 1st prize winner, Thekla Lit, was very generous and donated her winning to the school. She really demonstrated the true meaning of charity and Christmas spirit. A BIG THANK YOU TO THEKLA!!!
Finally, I would like to express my sincere gratitude to the 16 volunteers who worked tirelessly to make it successful. They were the true hero of this event.
Submitted by Caroline Young
[Click on thumbnails below to view the photos]