Photo Gallery
Open Art Studio Lunar New Year 2023 Display
To celebrate Lunar New Year, the Open Art Studio prepared an art display shown in the Bonsor 55+ Lounge. The New Year theme artwork done by group members showed off a wide variety of medium including print making and Chinese painting. Hope you enjoy the display as much as we enjoy doing it.
Our group has also moved to the larger room in the north side of the building and our time has changed to 1:45 -3:45pm on Tuesdays. We are now able to welcome more members. Do drop by to visit if you are interested in our group's activities.

Goodwin Young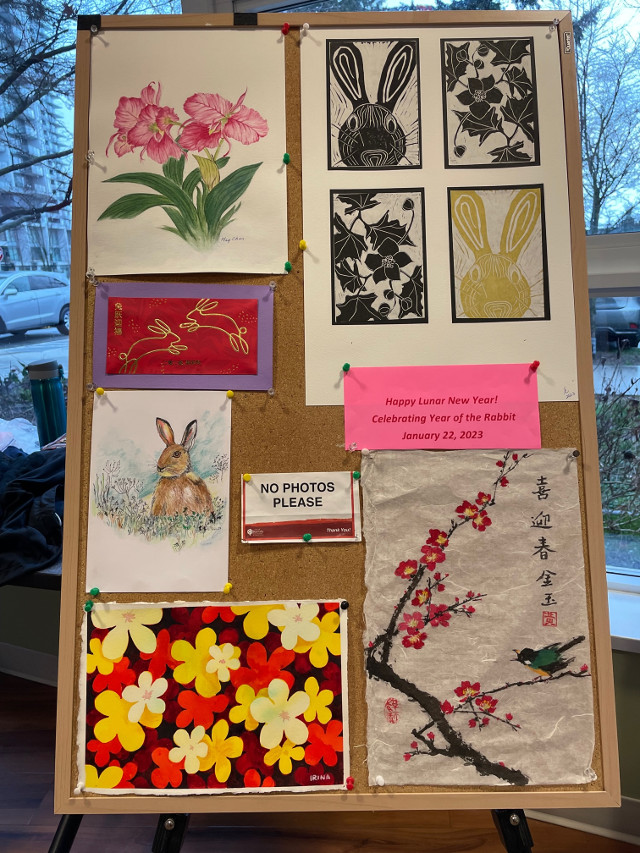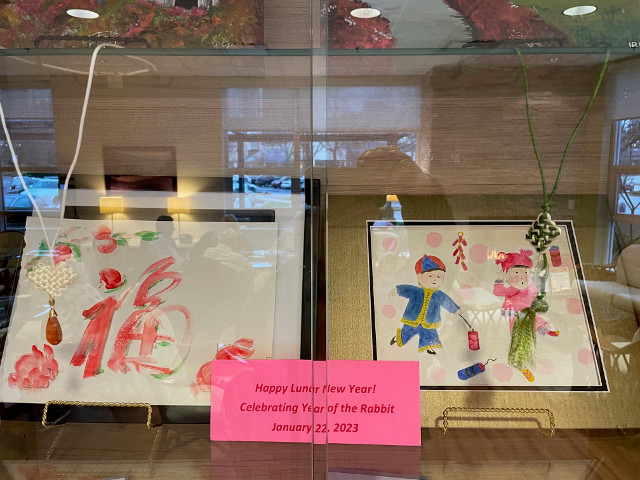 Successful Event - Mulberry Art Walk
The Bonsor 55+ Open Arts Group was invited to participate in the Mulberry's annual ART WALK featuring the artistry of Burnaby Seniors. The works on display showed an amazing amount of talent! How wonderful to have an opportunity to show the public another example of how our seniors contribute to the community while keeping active and utilizing their talents in a friendly social environment. New members are always welcome!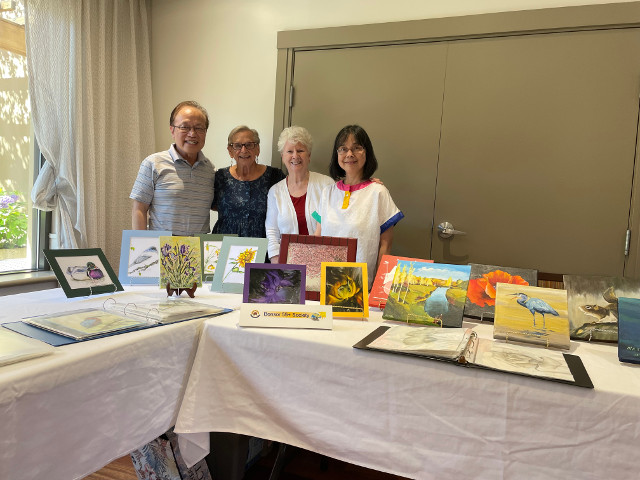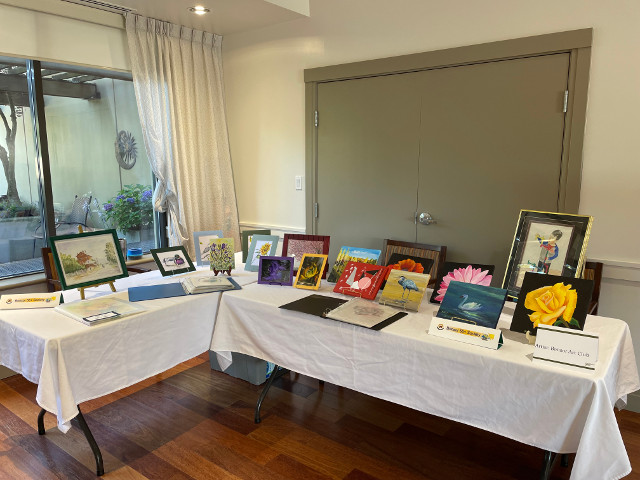 Snooker Group Tournament: Harvey Lee Trophy 2022
A competition was held last weekend for the Harvey Lee Trophy. There was a full attendance the final day, starting at 10:00 am. Dave Braganza was the winner, and Stan Ziolkowski was the runner up. Dave Braganza also won the high break of the tournament with a 52 point lead. Thank you to the volunteers and referees.
Glenn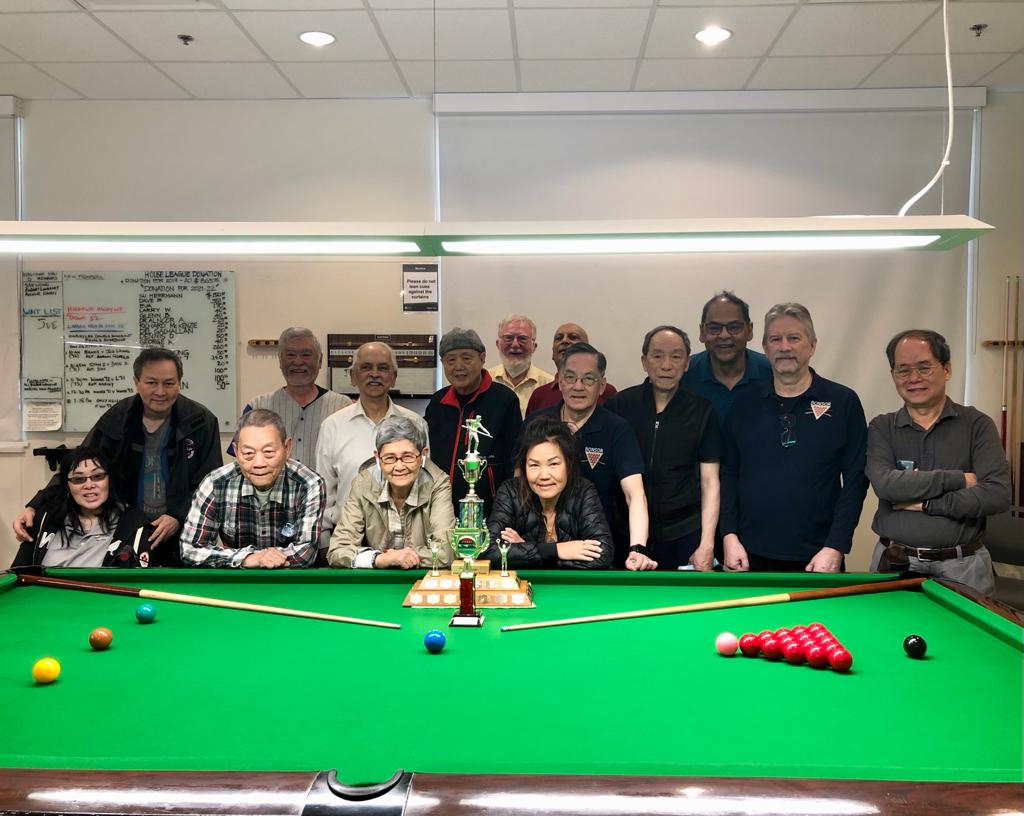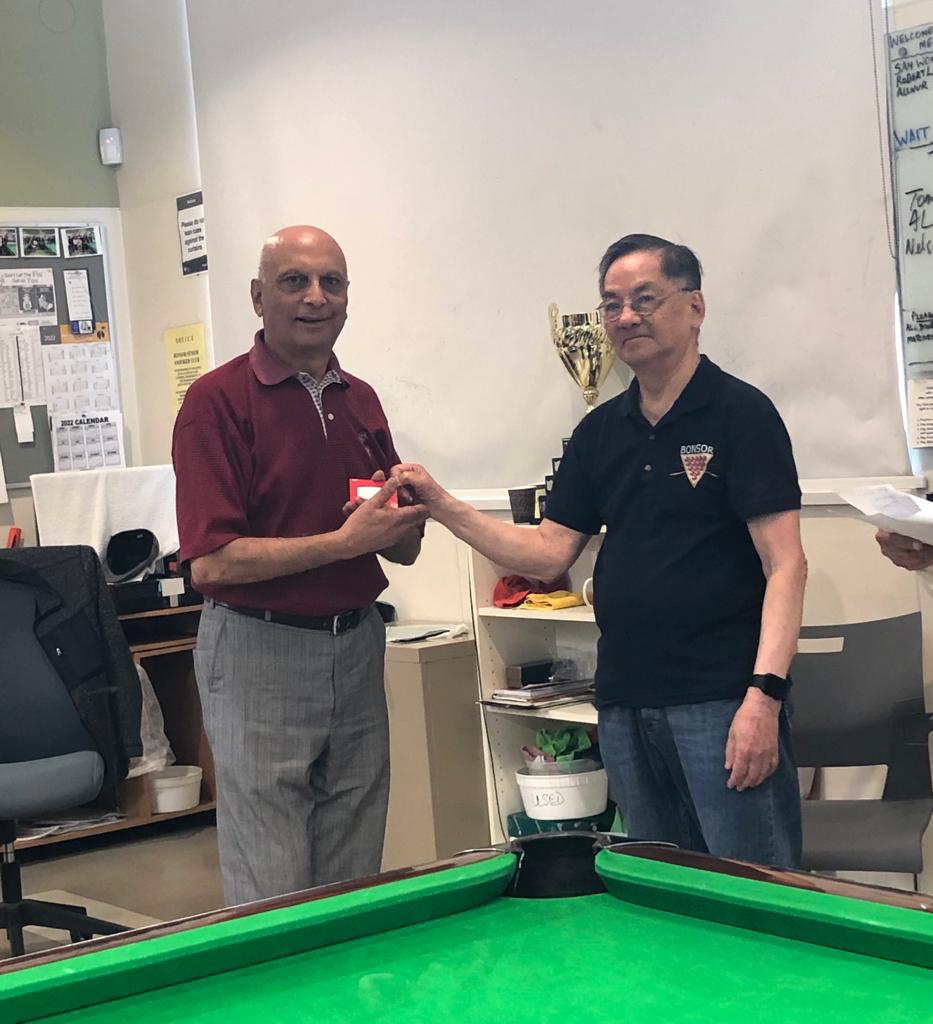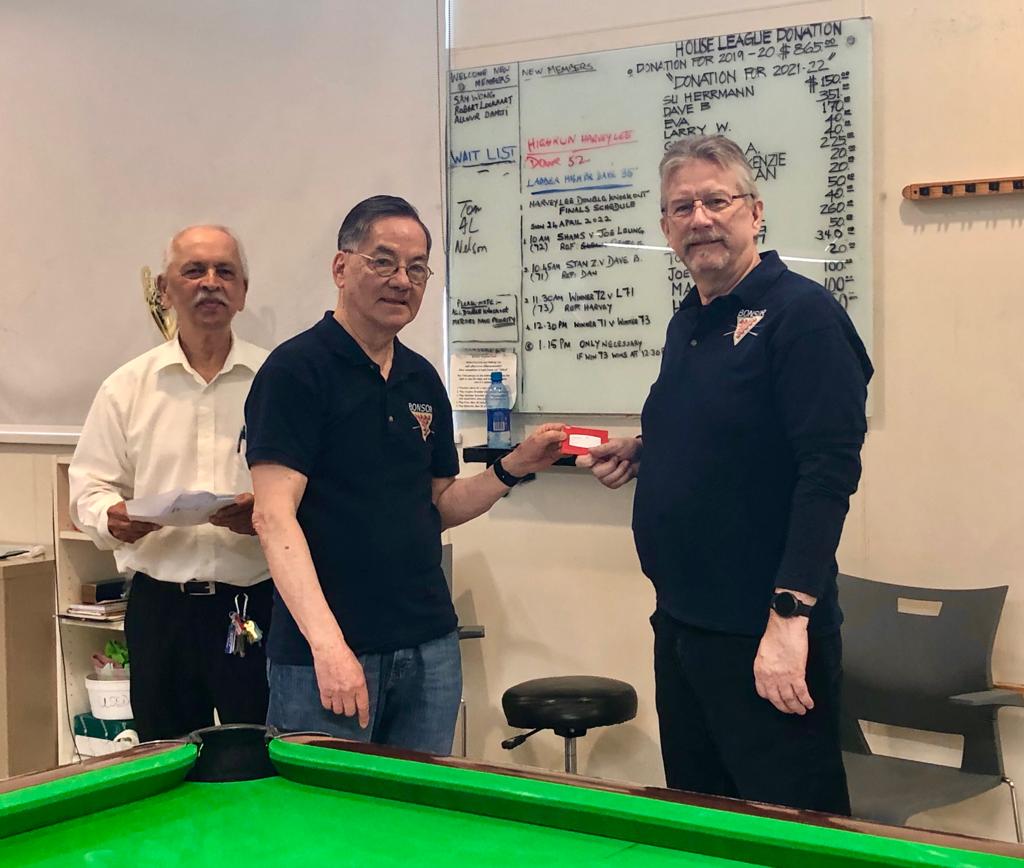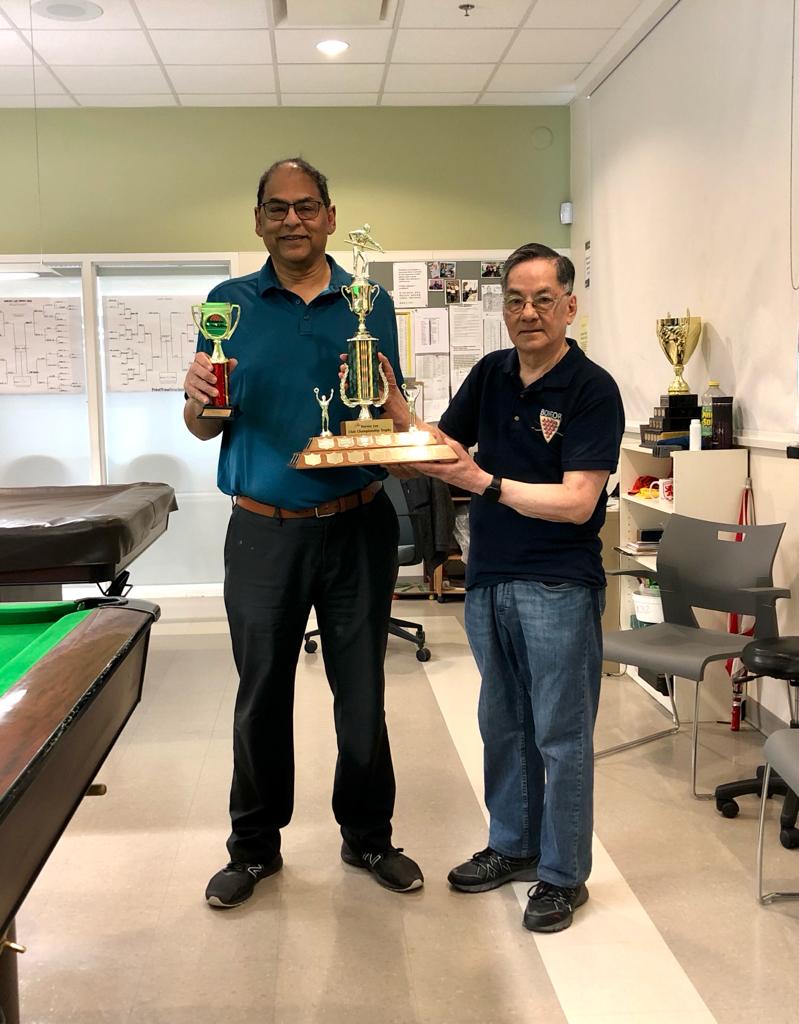 B.E.A.R.S. Sale in December 2019
The B.E.A.R.S. held their semi-annual sale at the Bonsor Recreation Complex in December 2019, with great success. As you can see, we have a new member! Bob, our longtime B.S.E. who is dearly beloved by all our members, has now retired and become a member of this group. A second sale will be held today but with the COVID-19 virus, we are not expecting much in the way of sales.
It is interesting to note that every year the B.E.A.R.S. give approximately $1,000 to the Society with instructions to distribute among various groups, such as Children's Hospital, C.K.N.W. Orphans fund etc. This is a bright cheerful friendly group who are always on the lookout for more members. As you can see by the pictures, the quality of their work is excellent. They are a valued part of the Society, and they meet to socialize and learn new skills from each other every Friday.
[Click on thumbnails below to view the photos]

Badminton Group Spring Celebration Dinner 2020
Our annual gala event was held on Friday, February 28, 2020 at Fraser Court Seafood Restaurant.
Due to concerns of the Coronavirus, many members opted not to attend the dinner this year. Thus we only had 13 tables, instead of the usual 19 tables.
We had karaoke from 3:30pm to 6:30pm. Our members sang and danced all afternoon until 6:30pm. Then the dinner began with blessings from our president Peter McConville, followed by a short speech from our guests of honor, Mary Horton and Francis Sykora.
This year, we were able to negotiate an upgraded menu without extra charge. Instead of 2 crabs, we negotiated to have 2 large lobsters per table, which was the highlight of the meal. Another delicious upgrade was the sautéed prawn and chicken in bird's nest. The baked tapioca pudding and Chinese pastry rounded out the meal perfectly.
In between the dishes, we also played a fun game challenging our members' badminton skills. There were also a lot of door prizes, like a pair of Canucks tickets and a unique handmade wood watch, etc., all donated by our members. After dinner, many members opted for more dancing until 10pm.
Everyone thoroughly enjoyed the party, with bursts of laughter and cheers throughout the evening. I'd like to thank all the volunteers who help make this event so successful.

Submitted by Caroline Young
[Click on thumbnails below to view the photos]

Karaoke Group 2019 Year-end Party
The Karaoke group had their 2019 year-end party early (on November 17, 2019) due to Christmas travel plans of its party organizers. 45 of its 70 members participated. It was done during program time in the MP1/2 room. We only stop the Karaoke singing for about 90 minutes for people to enjoy their food and resume sing when most members finished with their meals.
The party was a huge success, thanks to our volunteers and sponsors. There were lots of food for everyone to eat there and to take home too. The menu included (BBQ pork + BBQ Duck or BBQ Chicken) combo lunch boxes, deserts, fruits plus many other goodies. Each participant was subsidized $5 by the club and we had 3 additional sponsoring members who contributed funds for the party.
Here are some photos of the event. Unfortunately, they did not capture all the food before starting the party but they certainly captured the mood of the moment.