Come share space with other artistic individuals as you work on your own visual art projects.
Group Fee: $10 annually
Day and Time: Tuesdays from, 1:45pm-3:45pm
Location: Bonsor 55+ - MP2
Contact Bonsor 55+ at 604-297-4580 if you wish to connect with the Group Leader of the Open Art Studio Group for more information.
---
Non-instructed open studio time is available for all visual artists.
The Open Art Studio group meets every Tuesday afternoon (1:00-3:00pm) on the 2nd floor and anyone interested is welcome. The group participates and contributes much to other Society events. They submit a large display to the annual art show at the Mulberry, as well as in the lounge on the easel and on the walls where space allows, showing their awesome talents. The art work on the walls for the annual Wine and Cheese event is also done by them and they donated beautiful art cards for prizes. This is a very social group and they celebrate whenever possible – birthdays, holidays, and other special occasions.

Each month, an artist is featured by this group.
Artist of the Month - June 2023
Estella
Estella joined the Open Art Studio a year ago. She knew nothing about painting before joining this group.
She started with watercolor and developed great interest in it. She loves colorful things. Various techniques in watercolor painting create beautiful shades, depth and soft edges which easily bring her into a calm dreamy state.
The Baobab tree painting displayed below was her fifth painting. Native to the African Savannah, Baobab is a symbol of life and positivity.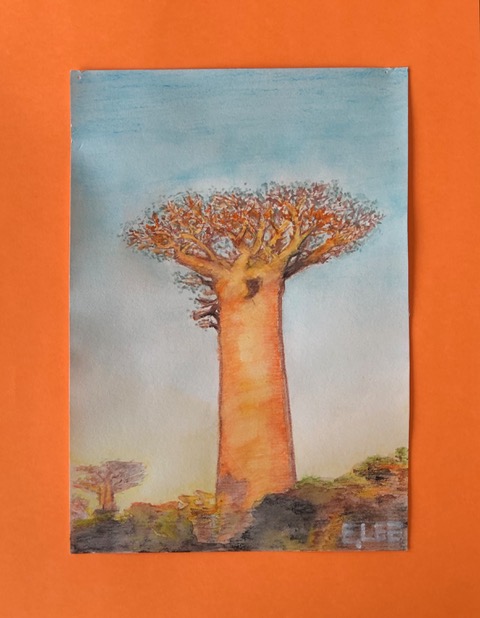 Previous Featured Artists
2023
February - Michael Chan | April - Pat Willemsen | May - Irina Lau
2020
January - May Chan | February - Pauline Lowe  
2019
May - Pat Willemsen |  June - Alice Yeung |  July - Lyyli Ellip |  August - Michael Chan | September - Eileen Mackenzie |
October - Dusanka Apic | November - Josephine Lui | December - Goodwin Young
---