The Open Art Studio has reopened and members can come to the classes again - Tuesdays 1:00 - 3:00pm!
For more information please contact the Bonsor 55+ Centre.
---
Non-instructed open studio time is available for all visual artists.
The Open Art Studio group meets every Tuesday afternoon (1:00-3:00pm) on the 2nd floor and anyone interested is welcome. The group participates and contributes much to other Society events. They submit a large display to the annual art show at the Mulberry, as well as in the lounge on the easel and on the walls where space allows, showing their awesome talents. The art work on the walls for the annual Wine and Cheese event is also done by them and they donated beautiful art cards for prizes. This is a very social group and they celebrate whenever possible – birthdays, holidays, and other special occasions.

Each month, an artist is featured by this group.
Artist of the Month - February 2020
Pauline Lowe
Pauline is an oil artist and paints flowers and birds.
The past couple years she has been painting in Alcohol Inks, and signs her paintings ZanyArt.
She is from Vancouver and a member of the Bonsor Open Art Studio.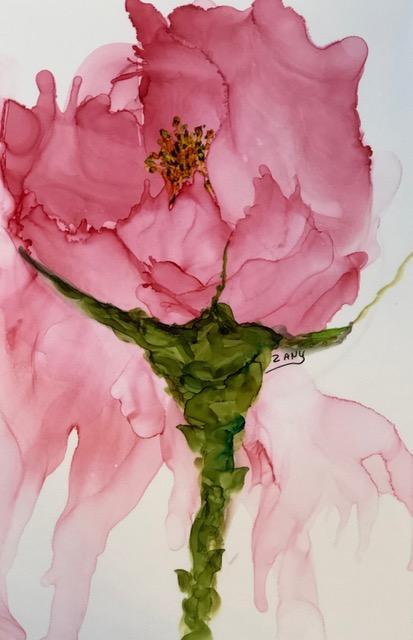 Previous Featured Artists
2020
2019
May - Pat Willemsen   June - Alice Yeung   July - Lyyli Ellip   August - Michael Chan  September - Eileen Mackenzie
October - Dusanka Apic  November - Josephine Lui  December - Goodwin Young
---