Bonsor 55+ Coffee Bar and Lounge
Join us in our coffee bar, operated by our volunteers, open from 11:15 to 3:15pm, Mondays thru Saturdays. Enjoy a cup of the beverage of your choice - Tea, Coffee, etc.,($1.00) and a muffin ($1.00) or a cookie (50 cents) baked fresh and delicious by our wonderful bakers. Books and daily paper always available.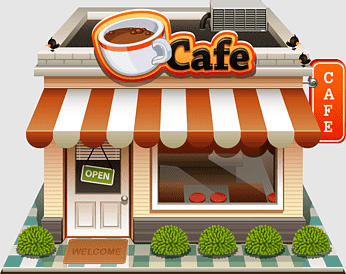 Bonsor Snooker Report August 2022
The Eighth Annual House League was held between May and August 2022. We had 44 players in 4 Teams. The Break Builders won very tight semi finals and finals to lift the Tom Yee Trophy.
We had the Awards Banquet at the Kirin Restaurant at The Starlight Casino. Sixty people attended to enjoy a lovely lunch. Tom and Bonnie Yee made the effort to attend and give away the Trophy. It was indeed a very poignant moment for all of us to see Tom again after his stroke many years ago.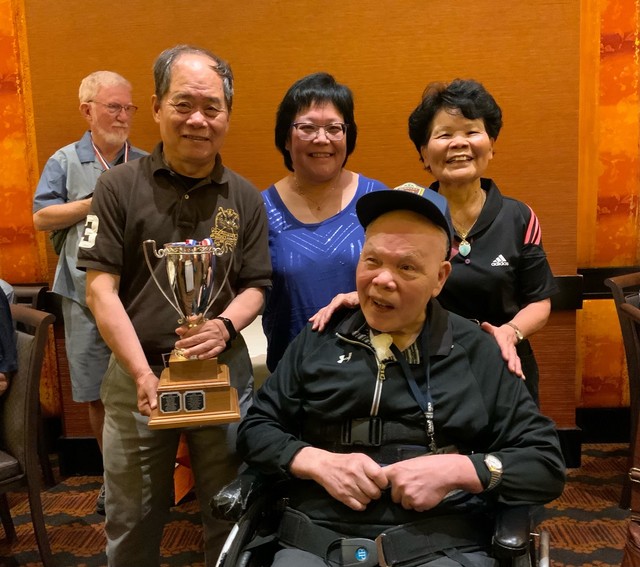 The Snooker AGM will be held on Tuesday, September 6, 2022.
Bonsor snooker will have a B Team entered in the Lower Mainland Senior Snooker League for the 2022-23 season along with 6 other teams from the lower mainland (Edmonds, Century House, Dogwood, Kennedy, Minoru, (Maple Ridge/Pitt Meadow/Langley-combined).
Bonsor 55+ Society Line Dance Event
How many could line dance at 100 years of age? We have one at Bonsor Recreation Centre in Burnaby, BC.! An enjoyable line dance event happened on August 3, 2022: a celebration of JOYCE CHONG's centennial milestone at the Bonsor Recreation Centre banquet hall.
A few Board members of Bonsor 55+ Society, namely, Mary Horton, Pat Couch, Freda Jenkins and Shirley Noble were present and expressed their well wishes to Joyce on behalf of the Board. The Hall was decorated with colourful balloons and there was a lot of food for everyone including Joyce's favourite delicious mango birthday cake. Over 65 people attended the party including a surprise visit from Joyce's nephew and family from Calgary, to celebrate with Joyce. Everyone was line dancing, socializing and enjoying the event, singing Happy Birthday to Joyce. She is an inspiration to all of us, a fantastic, lovable and amazing lady. Maggie Bretton, our line dance instructor gave a lovely speech on behalf of the line dance group and led us through many fun dances.
A big thank you to the staff at Bonsor 55+ Centre, especially Brett Boland, and to the volunteer team led by Lily Chew and Daisy Chan. Thank you, of course, to Joyce Chong for hosting the party.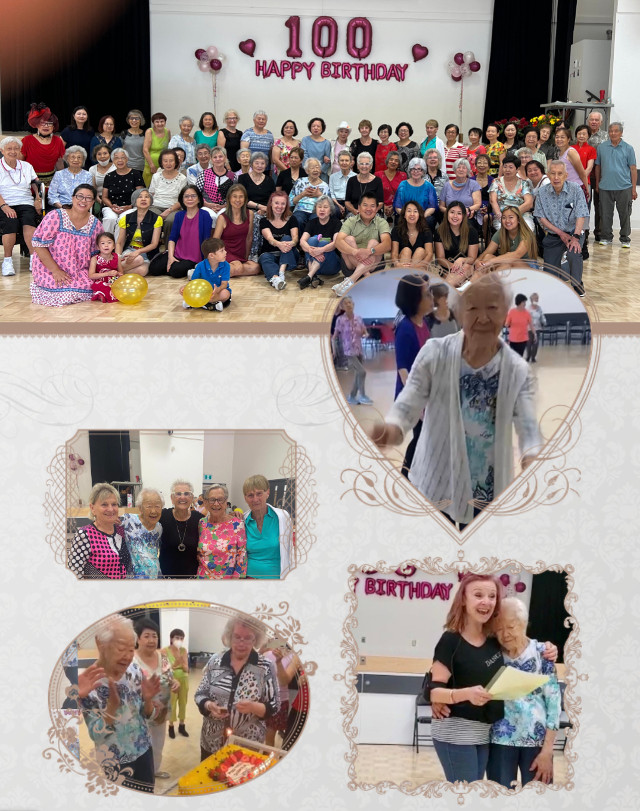 Line Dance Practice Group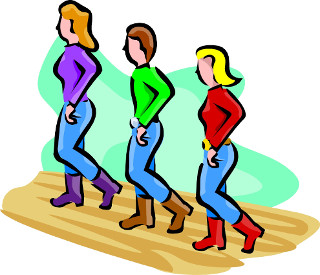 The Bonsor 55+ Society Line Dance Practice group was officially started in March 2022.
The Line Dance Practice group was started, albeit not officially under the umbrella of the Bonsor 55+ Society, as an off shoot of the Line Dance Classes held at the Bonsor Recreation Centre about 20 years ago. Only participants in the line dance classes at various levels could come into the practice sessions.
Currently, as an official Bonsor 55+ Society program, we have openly invited line dancers registered at all levels in the Line dance classes at the Bonsor Recreation Centre to participate in these practice line dance sessions. A donation of $10 per fiscal year to the Bonsor 55+ Society is required. The practice sessions run only when line dance classes are on. It is scheduled for every Thursday at 1.30-3.00pm.
The purpose of this line dance practice group is to provide an opportunity for all participants in the Bonsor Line dance classes to review line dances taught in the classes. It provides an avenue to review in an informal setting and to socialize with one another. The sessions are run by volunteers.
Re-opening of Bonsor 55+ Sing Along

The Bonsor 55+ Sing Along program will re-start on September 8, 2022. Below is a message from Alice of the Bonsor 55+ Sing Along Group.
Hi members of the Bonsor 55+ Sing Along,
I hope you have a lovely summer break and are ready to get together again to sing some beautiful 50 to 60 oldies, folk songs, Broadway musical and Christmas chorus. Here is the information for the rest of the year. Please mark it on your calendar.
Date: Alternate Thursdays
September 8, 2022 (celebrating of Chinese Mid Autumn Festival)
September 22, 2022
October 13, 2022
October 27, 2022 (celebrating of Halloween)
November 10, 2022
November 24, 2022
December 8 2022 (celebrating of Christmas)
Time: 12:45-2:45pm
Place: Bonsor Recreation Complex Multi 1&2
Fees: Bonsor membership, and $10 a year to join Sing Along
Coffee Break: Coffee and tea are 1.00 each. Snacks are free. Please free feel to bring in your favourite snacks and share them with others.
Name tags: Will be provided. They are available at the door to be picked up, and return after the sessions.

Song Books are available at the tables for borrowing to use at the sessions. Song list will be placed at the table for you to use.
We need more musicians to volunteer to play any kind of instruments. Please feel free to join our Sing Along band.
Thank you for Wendy at the piano, Fred to lead the singing, Ted at the clarinet, and Tyler at the drums.
Looking forward to seeing you there on September 8, 2022.

With best regards
Alice
Social Line Dancing Celebrates Return to Bonsor 55+ Society
The Social Line Dance group reopened in April 2022 after a shutdown of more than two years due to Covid. All members have been wanting a get-together after such a long, long time, to re-energize our mind, body and soul.
That materialized on August 17 at the Grand Crystal Seafood Restaurant. A total of 49 people attended. There were only 8 to a table to allow more personal space. Masks were recommended and hand sanitizers were provided at the door.
Our board liaison, Louise Kowalenko, was kind enough to attend and brought along a big gift for our lucky draw, on top of some other door prizes comprising coupons for the Grand Crystal Seafood restaurant, T&T supermarket, the Real Canadian superstore and Maxim bakery.
There were sumptuous food and delightful line dancing throughout and after dinner. Everyone had a wonderful evening making up for lost time and renewing some friendships.
No associated covid cases were reported afterwards.