Photo Gallery
Bonsor Badminton Group Year-end Party 2017
The Bonsor Seniors Badminton annual year end party happened on November 17, 2017 at the Bonsor Centre banquet room. This year we had 184 members attending, breaking last year's record of 171. Mary Horton, the Bonsor 55+ Society president and Michelle St Jean, the 55+ program supervisor also joined us for the party.
In the morning, we had our annual Bonsor Cup tournament with 6 teams (72 participants) competing for a chance to have their names engraved on the cup. After the tournament, they all came up and joined the rest of the members for lunch.
It was a huge undertaking with so many people attending. Our volunteers began the preparation around 9am. The party started around 12:30pm with our president Peter McConville, Mary and Michelle all giving a short speech. We ordered lots of food from PriceSmart Foods. Each person had a large lunch box, a shrimp spring roll, then rounding out with a delicious egg tart, some roasted chestnuts and a chocolate bar, also an apple for a healthy touch. Almost everyone had leftover food to take home. After the lunch, we continued with the medal ceremony, lots of pictures and of course the popular prize draw. This year, we had many smaller prizes so more members would have a chance to win something. We also raised $637 for the Maywood School socks fund, hopefully continuing badminton group's tradition of giving the largest donation.
The party was a huge success and everybody enjoyed the food, the prizes and most importantly the company of their friends. However, such a large event will not be successful without a lot of volunteers. I would like to express my sincere appreciation to everyone who worked hard for this event.

Submitted by Caroline Young
[Click on thumbnails below to view the photos]

Bonsor 55+ Badminton Dim Sum Lunch
170 badminton members and guests attended a dim sum lunch at Fraser Court Seafood Restaurant on Wednesday, September 23. The lunch started with a few words from our President, Peter McConville, followed by the President of the Bonsor 55+ Society, Mary Horton. They congratulated all the members who participated in the BC Senior Games in Vernon where our members brought home over 40 medals.
There was plenty of food served including prawn dumplings (ha kow), steamed pork dumplings (shiu mai), prawn spring roll with seaweed, etc., for a total of 10 different dishes. We enjoyed all the dishes and many of us had food to take home.
After lunch, we sang karaoke. There was lots of fun and laughter especially when the group, led by Rosemary, sang 'Leaving on a jet plane' and 'Those were the days'. The fun ended around 2:30pm.
Submitted by Annie Louie
[Click on thumbnails below to view the photos]

Mulberry PARC Donation 2017
A cheque for $10,000.00 was presented to Barry Campbell, Group leader of the Health Alert Program, by Monica Webb from Mulberry PARC for the Health Alert Program. It is the third year in a row that Mulberry PARC has sponsored the Bonsor 55+ Society and we are very grateful for their support and sponsorship. Every effort is made to show our appreciation for this wonderful contribution. Mulberry PARC also supports several health programs in the community through their Societies.
Our Health Alert program offers many services in support of Burnaby Seniors and we encourage you to visit or inquire for more information about Health Alert and the Bonsor 55+ Society at any time.
[Click on thumbnails below to view the photos]

Celebrating Burnaby's 125th Anniversary
The board thought that it would be appropriate to recognize Burnaby's 125th Anniversary as we have such close ties with our city. We decided to have a free barbecue to recognize this occasion, and so we invited all our members to participate!
We had no idea whether we would get 40, 50, or possibly 200 people to attend, so our organizing committee of George, Brian, Ernie and staff decided we could be ready for anything!
There were approximately 300 people who came, and we had a great time, with our local firehall volunteering on the grill and our line dancers and belly dancers putting on displays. We even had live music with John Parsons.
[Click on thumbnails below to view the photos]

Snooker Group Continues with "Food for Children" Campaign
The Bonsor 55+ Snooker Group has a donation fund (collected by their members) and the executive purchase granola bars (nut free) and juice boxes and deliver them to schools in the area. They have been doing this for several years, with great success. Maywood School says that these donations are very helpful and much appreciated.
Well done, Snooker Members!
Mary Horton
President
Bonsor 55+ Society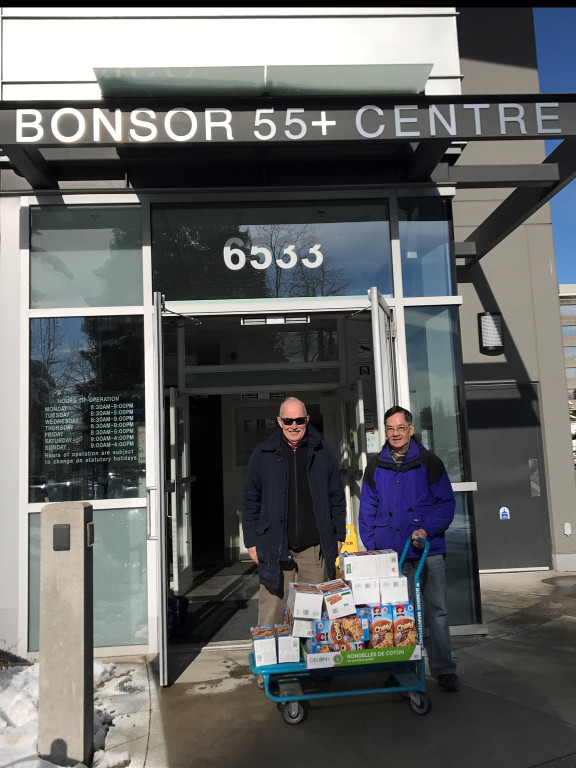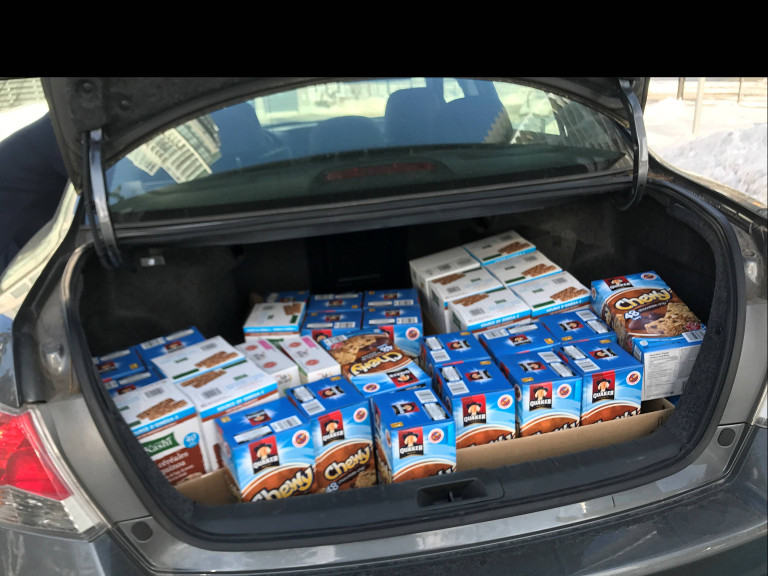 Badminton Group Christmas Party 2016
On November 25, 2016, following our Bonsor Cup Tournament, we had our annual Christmas lunch. Once again, a record number of 171 members attended. Also, we were honored to have Eric Bientjes (Manager of Burnaby Parks & Recreation), Mary Horton (President of Bonsor 55+ Society), Tina Cooper (Bonsor Senior Supervisor) and Michelle St Jean (Bonsor 55+ Liaison) join us for the event.
Before the lunch began, our president, Peter McConville, presented the medals to all the winners with everyone cheering on. Lots of pictures were taken of individuals and teams posing with the Bonsor Cup.
We also had lots of door prizes, including bouquets of beautiful flowers (donated by one of our members), chocolates, cookies, mugs with our club's logo and other badminton accessories. Our grand prize was a badminton racquet.
Every year we raise money for the Maywood School mitten fund as part of the Christmas lunch event. Our contribution to the fund this year tops $589.
The party was a huge success. Everyone enjoyed the delicious food and the good company of each other. Finally, I'd like to express my sincere gratitude to all the volunteers who helped make this event so successful.
Submitted by Caroline Young
[Click on thumbnails below to view the photos]