World Elder Abuse Awareness Day Seminar
Thursday, June 15, 2023
12:00-3:30pm
Bonsor Recreation Complex, Burnaby
A FREE event for all seniors but you must register. Lunch will be provided for registrants. Register on Eventbrite by clicking on this link
https://bit.ly/3B46yFR or call 604-689-8609.
Register SOON as there is limited capacity attendance.
Deadline to register: June 7, 2023.
Speakers:
Mehru Mohsin and Patrick Tracy, Burnaby RCMP, Crime Prevention Unit for Seniors, Speaking on Seniors' Safety
Ken Kuhn, Regional Mentor for BCCRN, Speaking on Elder Abuse Scenarios
Terry Wright, Seniors First BC, Speaking on Fraud Prevention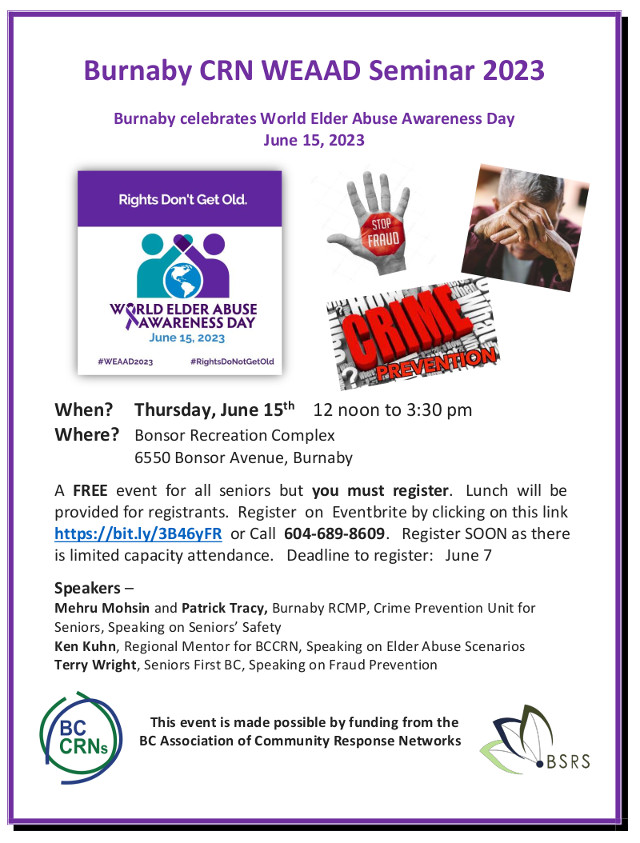 Be a Volunteer Bus Driver!
Bonsor 55+ Society has a 20-passenger mini-bus needing drivers for seniors bus trips. Apply online at www.bttr.im/q9uqf or email This email address is being protected from spambots. You need JavaScript enabled to view it. or call 604-297-4950 if you are interested.
Walk & Roll Walkathon
Presented by Burnaby Neighbourhood House
Burnaby Neighbourhood House and its partner agencies are organizing the Walk & Roll walkathon on Sunday, June 11, to raise funds for their community programs and services for seniors. The family-friendly walkathon will start at South House on 4460 Beresford Street and cover a distance of 2.5/5 km. Attendees will have access to information, resources, and prizes.
The Seniors Programs and Services offered by the organizers include prepared meals, grocery shopping and delivery, senior peer supports, caregiver support, seniors transportation, community adult day program, seniors social groups, and more. These programs aim to counteract social isolation in the senior community, which can lead to premature mortality, dementia, and other health issues.
Last year, more than 2,300 Burnaby seniors benefited from the programs and services offered by Burnaby Neighbourhood House and its partners. However, the need for such services is still on the rise. The Walk & Roll walkathon aims to raise funds to support the expansion of these programs, which provide vital support and social inclusion to the senior community. By participating in the walkathon, attendees can make a difference in the lives of seniors in Burnaby while enjoying a fun-filled event with their families.
Registration is free. For more information or to register, click on the link below.
https://burnabynh.ca/about_fundraising-event/walkathon/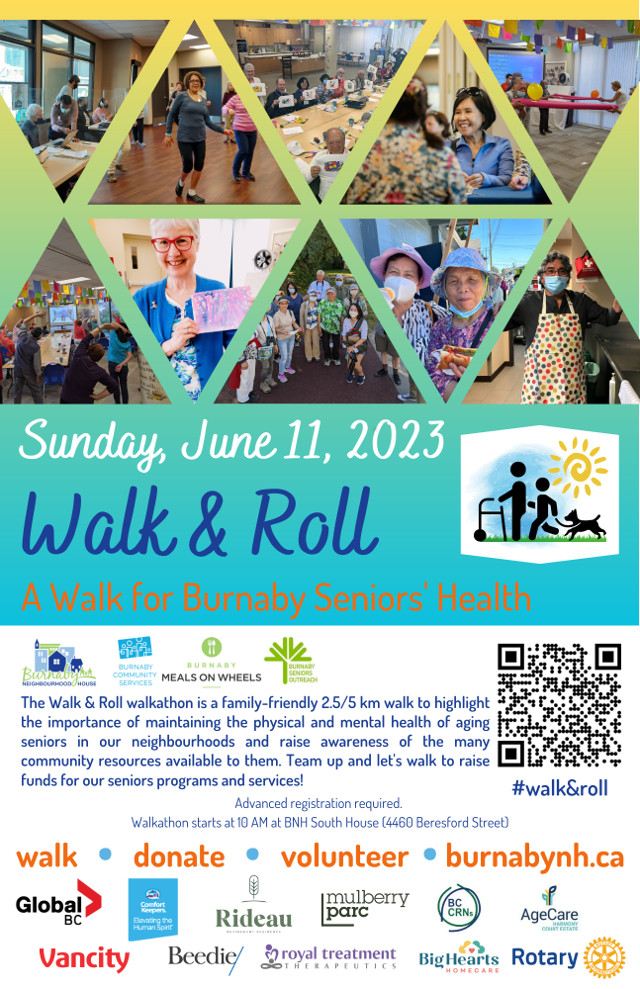 Burnaby Public Library Tech Cafe
Need help using your computer, tablet, smartphone or e-reader? Do you have questions about using social media or the internet? Join friendly Burnaby Publc Library (BPL) staff at the BPL Tech Cafe to get personalized help with your technology questions.
Topics covered include the basics of how to use your personal device and how you can access information and digital resources using the library website.
Bring your device with you to the drop-in sessions. No registration required.
Schedule
Bob Prittie Metrotown Branch, 6100 Willingdon Ave., Burnaby
1:00-4:00pm Thursdays - May 25, June 22, July 20
At the second floor service desk.
Cameron Branch, 9523 Cameron Street, Burnaby
5:00-8:00pm Mondays - May 29, June 26, July 24
In the foyer.

Tommy Douglas Branch, 7311 Kingsway, Burnaby
1:00-4:00pm, Mondays - June 5, July 3, July 31
In the Program Room.

McGill Branch, 4595 Albert St., Burnaby
10:00am-1:00pm, Thursdays - June 15, July 13, August 10
In the foyer.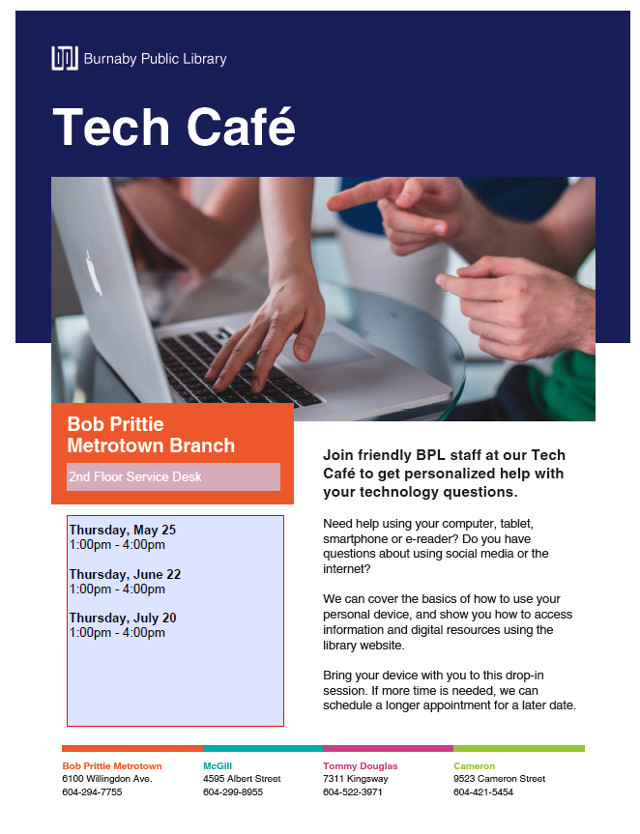 Vice-President Receives Prestigious Award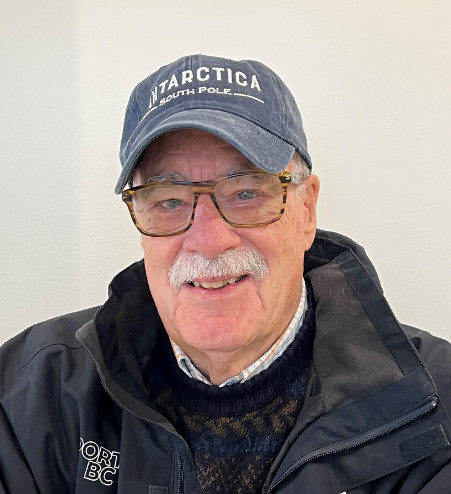 Bonsor 55+ Society is pleased to announce that our Vice-President, Brian Pound, is being inducted into the BC Figure Skating Hall of Fame on May 6.
Brian has been involved in figure skating for the past 64 years, first as Western Canada's inaugural figure skating reporter and then carrying on as the Provincial body's media relations and historian chair.
During his time as a either a reporter or media co-ordinator Brian covered eight World championships and was the training session announcer and interview area media official at the 2010 Vancouver Winter Olympics.
Brian is currently serving his fourth term as a Bonsor 55+ Board member. He was previously Burnaby Seniors liaison as Vice-Chair of the Burnaby Parks Commission.
Community Clinics for Seniors Foot Care (55+) Mar-June 2023
Footcare Nurse Evelyn is available for monthly appointments, 8:30am-12:00pm.
North Burnaby:
Cameron Rec Centre - 9523 Cameron Street, Burnaby
Tuesdays 8:30am-12pm, Mar 14, Apr 18, May 16, June 13
South Burnaby:
Edmonds Urgent and Primary Care Clinic
#201-7315 Edmonds Street, Burnaby
Mondays 8:30am-12pm, Mar 13, Apr 17, May 15, June 12
No drop-ins, appointment only. Call Evelyn at 778-228-6021 to book an appointment.
Fee is $50 - cash payment at time of appointment (no credit or debit).
COVID screening will take place at the door. Do not attend if you are feeling unwell, showing signs of COVID, have tested positive for COVID or been exposed.