Better Impact Volunteer Workshop
Thursday February 9
1:00-2:00pm
Barcode: 695909
Multi Purpose Room 3
FREE
Learn the basics on how to make an account, input volunteer hours, sign up for new volunteer opportunities and more in this free workshop.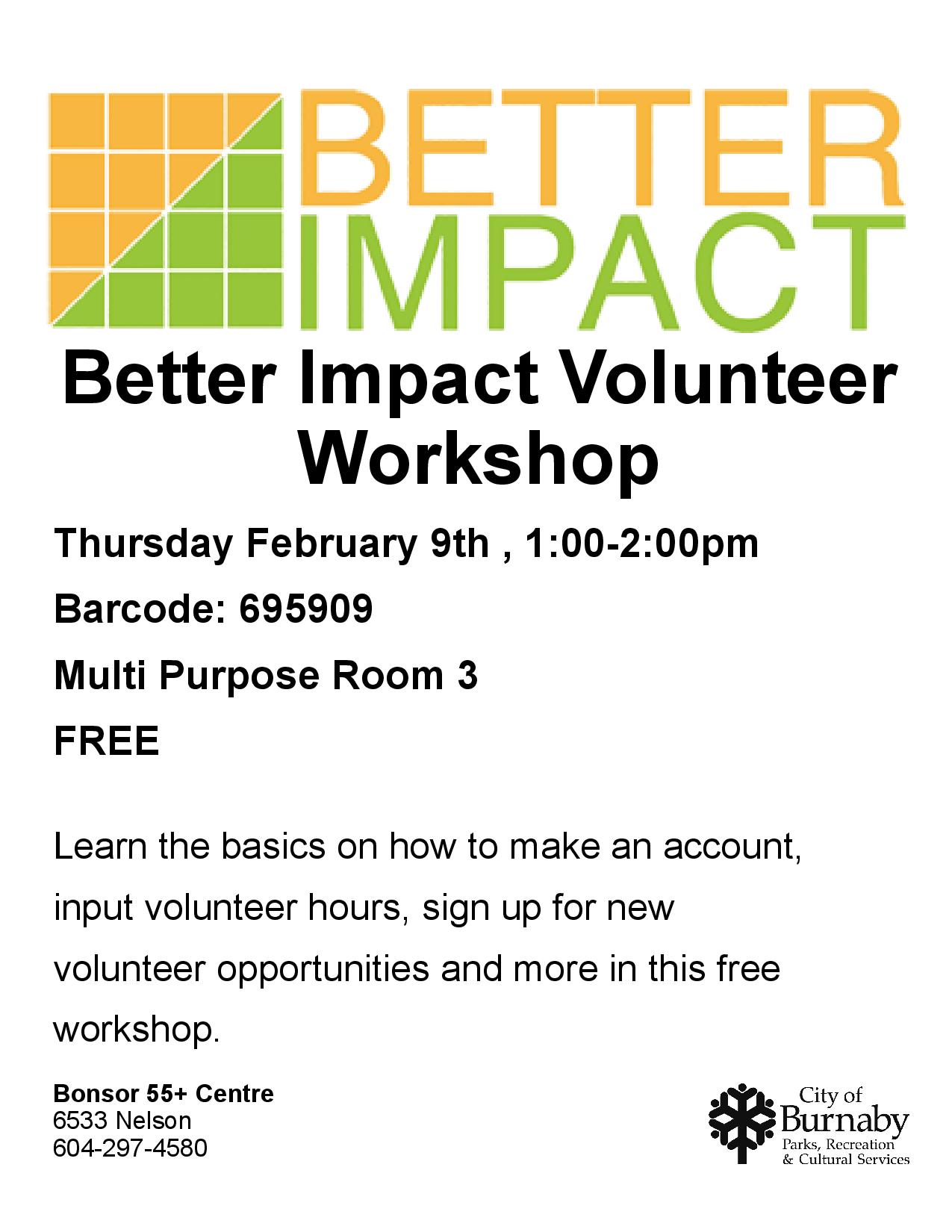 Bonsor 55+ Society AGM 2023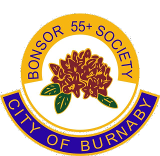 Annual General Meeting 2023
Banquet Hall, Bonsor Recreation Centre
Friday, February 24, 2023
1:00pm
Gather for light refreshments in the Banquet Hall at Bonsor Recreation Complex at 12:30pm. Meeting
begins at 1:00pm. Every year the members of the Bonsor 55+ Society get together to elect their board of directors and report on their groups. Membership must be valid 14 days prior to the meeting for entry.
How to get the AGM Package
To get or download the AGM package please click here.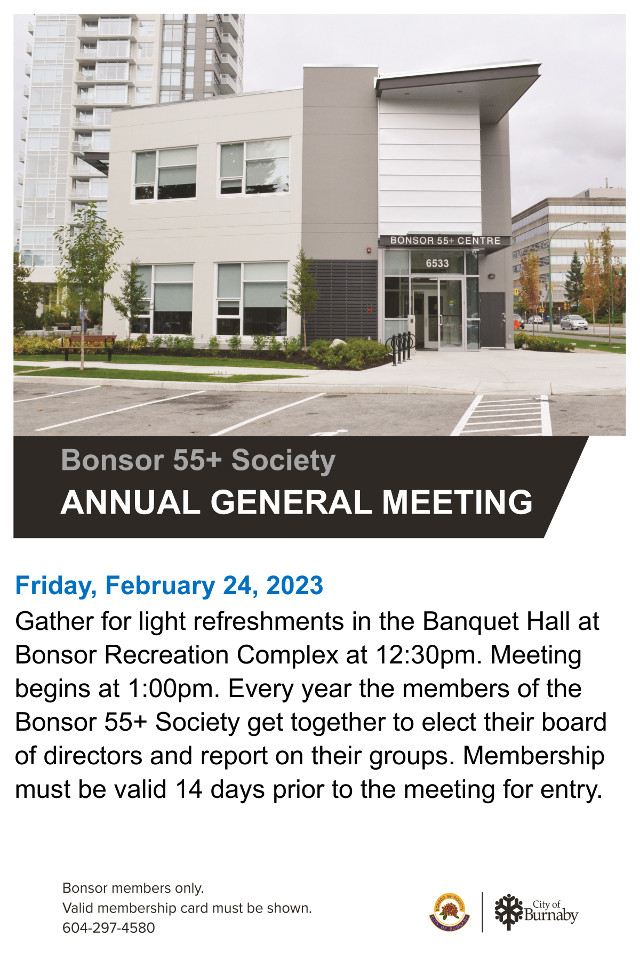 Bonsor 55+ Society Overnight Bus Trip
Port Alberni / Bamfield
March 27-29, 2023 (2 nights, 3 days)
Est. Cost per person: full bus: $550 single, $450 sharing / partial bus max $625 single, $550 sharing
For more details please view the poster below.
Please express your interest by calling 604-297-4587 and leave your name, phone #, and/or email for a call back from a Society bus committee member.
There are 18 available seats and your name will be placed on a sign up sheet in the order of receipt of your phone call.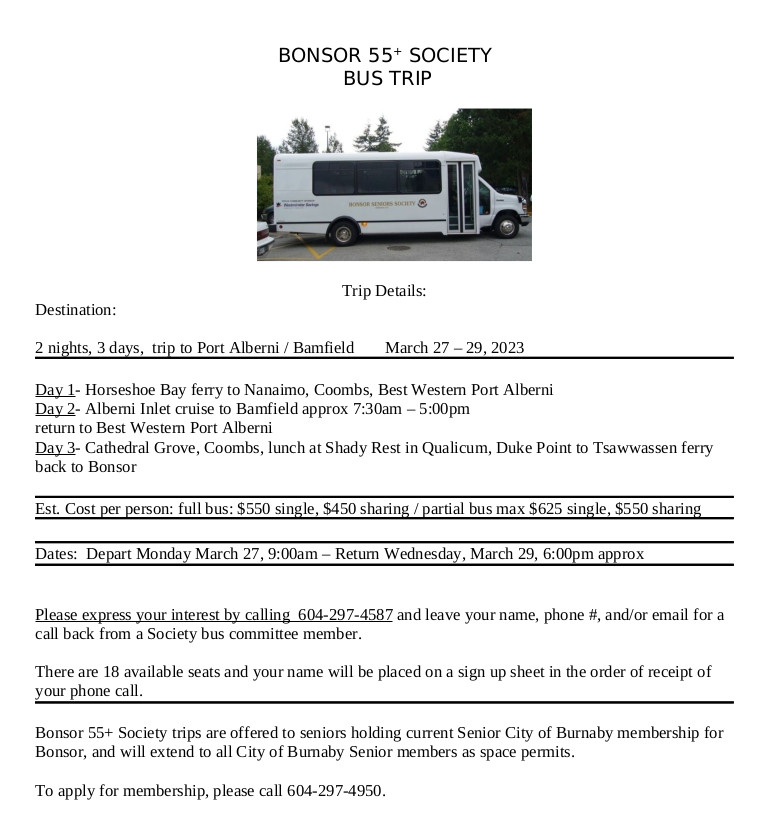 Community Clinics for Seniors Foot Care (55+) Jan-Mar 2023
Footcare Nurse Evelyn is available for monthly appointments, 8:30am-12:00pm.
North Burnaby:
Cameron Rec Centre - 9523 Cameron Street, Burnaby
Tuesdays 8:30am-12pm, Jan 10, Feb 14, Mar 14
South Burnaby:
Edmonds Urgent and Primary Care Clinic
#201-7315 Edmonds Street, Burnaby
Mondays 8:30am-12pm, Jan 9, Feb 13, Mar 13
No drop-ins, appointment only. Call Evelyn at 778-228-6021 to book an appointment.
Fee is $50 - cash payment at time of appointment (no credit or debit).
COVID screening will take place at the door. Do not attend if you are feeling unwell, showing signs of COVID, have tested positive for COVID or been exposed.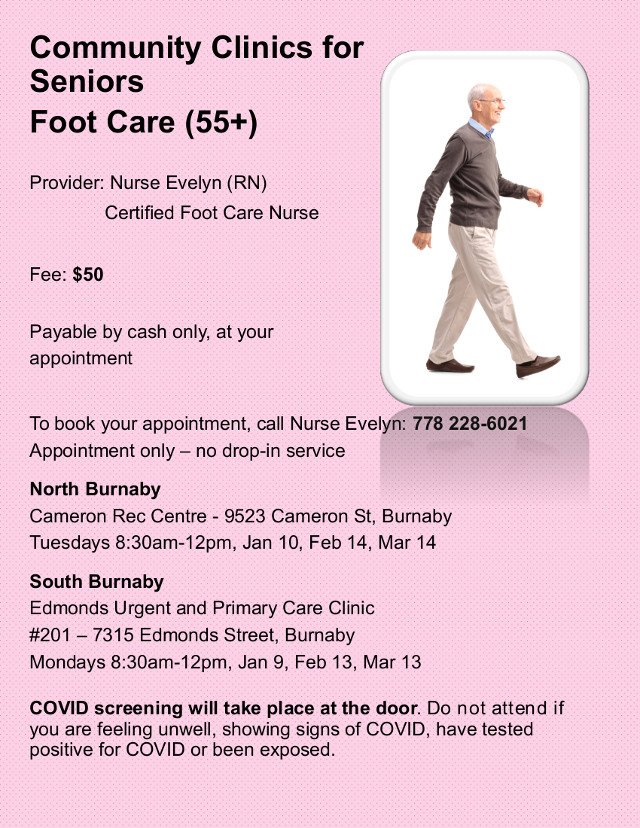 Photocopying Now Available!!!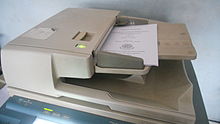 We now have a volunteer, who is willing to do our photocopying for our groups on a regular basis.
Procedure:
* Submit your photocopying documents with the completed form to the reception desk
* Photocopying will be done every Monday, and returned to the reception desk to be picked up
* Pleasure ensure your form is fully completed, with contact information
Any questions?? Contact the reception desk in the Bonsor 55+ building.