Photo Gallery
Karaoke Group 2019 Year-end Party
The Karaoke group had their 2019 year-end party early (on November 17, 2019) due to Christmas travel plans of its party organizers. 45 of its 70 members participated. It was done during program time in the MP1/2 room. We only stop the Karaoke singing for about 90 minutes for people to enjoy their food and resume sing when most members finished with their meals.
The party was a huge success, thanks to our volunteers and sponsors. There were lots of food for everyone to eat there and to take home too. The menu included (BBQ pork + BBQ Duck or BBQ Chicken) combo lunch boxes, deserts, fruits plus many other goodies. Each participant was subsidized $5 by the club and we had 3 additional sponsoring members who contributed funds for the party.
Here are some photos of the event. Unfortunately, they did not capture all the food before starting the party but they certainly captured the mood of the moment.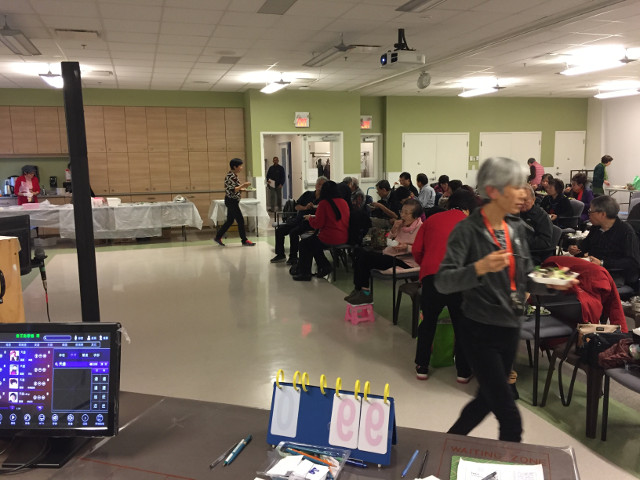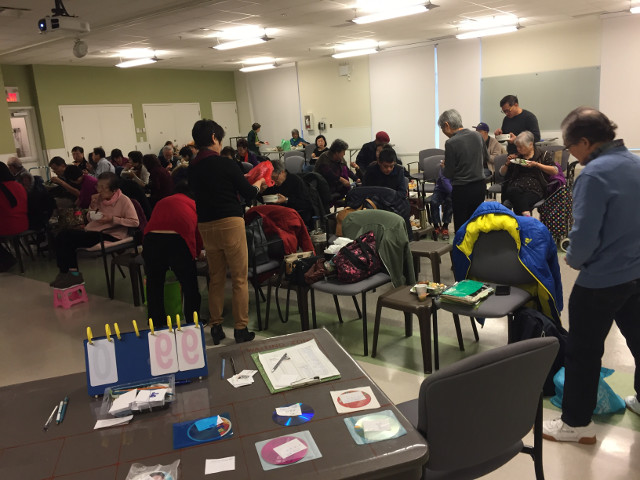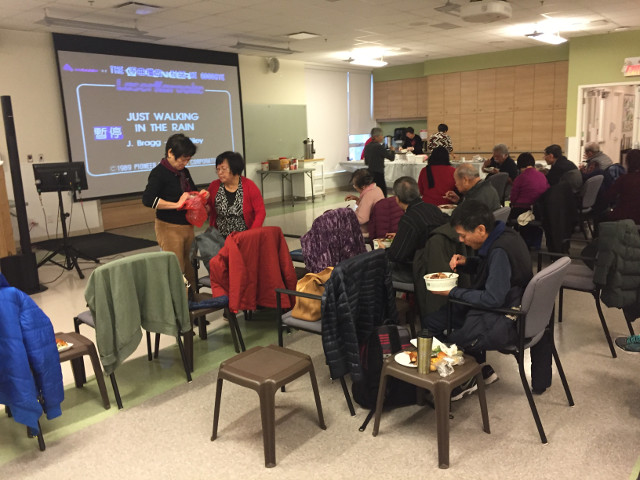 Computer Group Christmas Party 2019
On December 17, the Computer Group Drop-in held its Christmas Party. Everyone was in high Christmas spirit and had a great time eating and drinking to the sound of Christmas music videos playing over the giant TV screen in the room.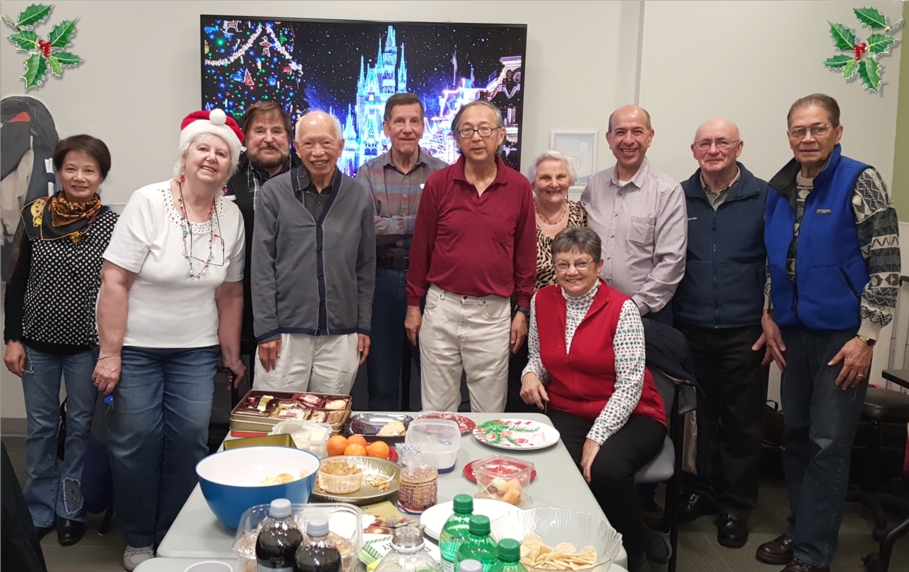 Health Alert Christmas Lunch 2019
The Health Alert's usual Monday, December 16 group was in for a special treat, a catered Christmas luncheon. Our group sponsor, "Mulberry Parc" arrived with a staff of four, which included Terrie Orthner, Sales Manager, our go-to contact at Mulberry.
Room MP 2 was set up for lunch for 40 people when Mulberry staff arrived, bringing with them all the food, drinks, treats, even the table cloths. The wonderful menu consisted of salads, assorted fancy sandwiches and wraps, fruit platter, cakes, tarts, and tea, coffee and punch. Several staff and directors were also in attendance and Society President Ernie Kashima spoke about the valuable contribution Mulberry makes to Health Alert which keeps the program operating. Mulberry also brought a lovely gift basket given to a lucky person by a draw where all attendees were given a chance to win. All in attendance, some dressed in the spirit of Christmas, said it was a perfect ending for the 2019 Health Alert Program.
We are truly grateful for the sponsorship of Mulberry Parc and appreciate the generous, supportive way they interact with our program.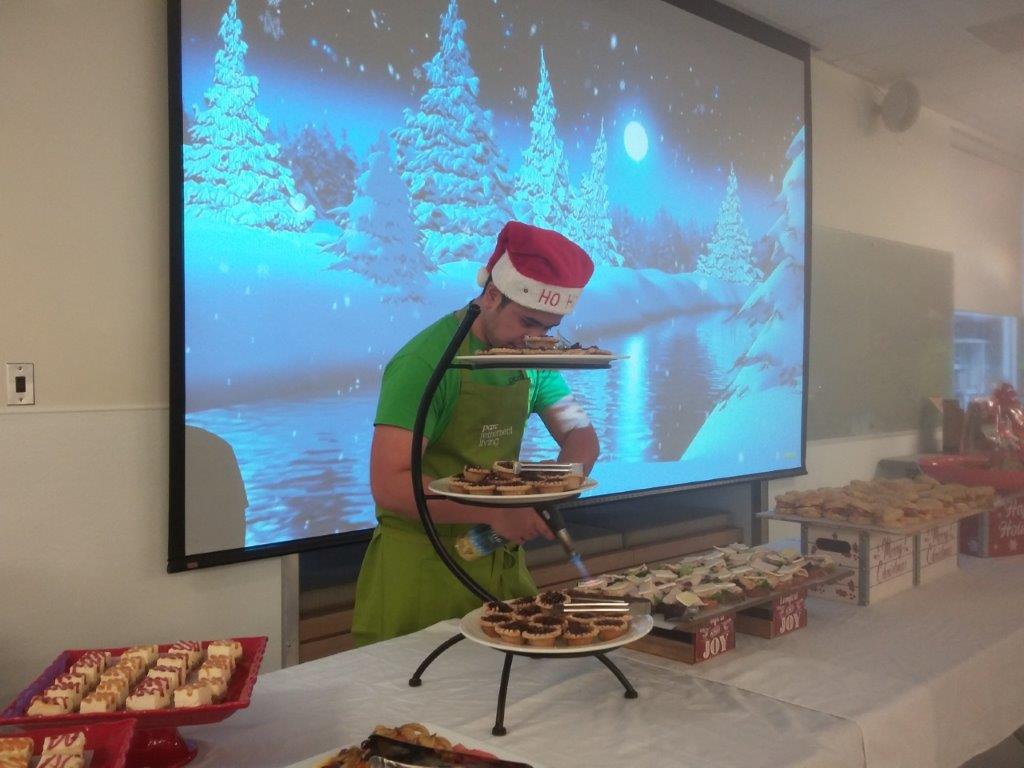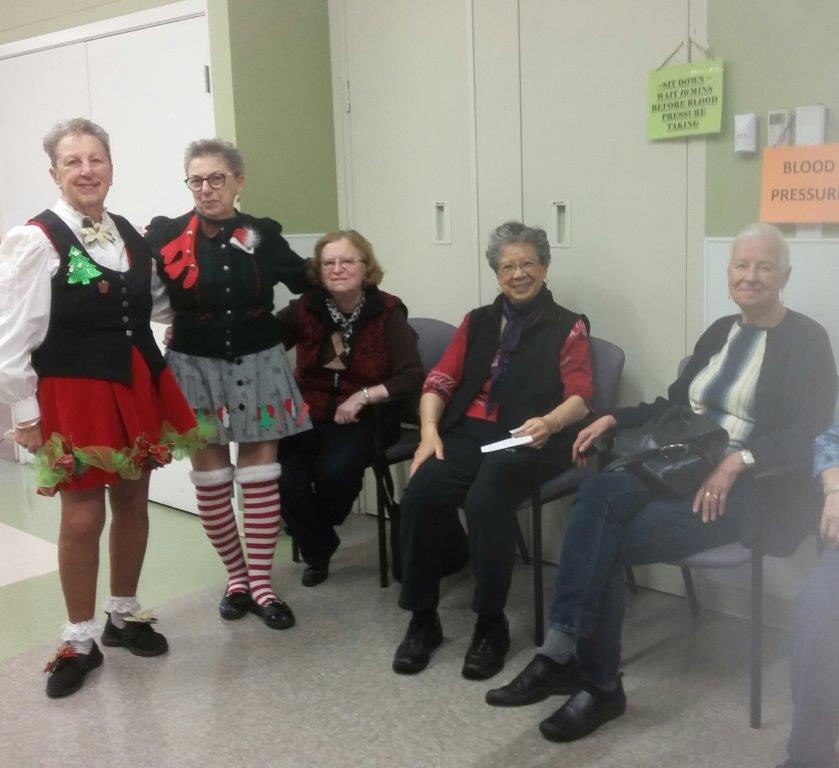 Bonsor 55+ Social Line Dance Annual Dinner/Christmas Party 2019
The 55+ Social Line Dance group recently had their annual dinner/Christmas party on November 28 at the Joyful Seafood Restaurant in Burnaby. A total of 50 members came for this event. We also had the honour of Louise Kowalenko, our 55+ Board of Directors liaison, coming to join us and Louise was so generous to have brought along two huge prizes for our lucky draw.
The evening's atmosphere was jovial with laughter and boisterous conversations. Two of our members, Mabel and Jane surprised us with their karaoke prowess. Their singing skills rivaled that of a professional if not better. Everybody had a wonderful time. One member even commented that she has never had this much fun in years, everyone seemed like family.
We would like to take this opportunity to thank everyone who is involved with our program, the Board of Directors, the staff, the volunteers and no less all the members for their support without which this would not have been possible.
Have yourself a marvellous holiday season and a magnificent new year!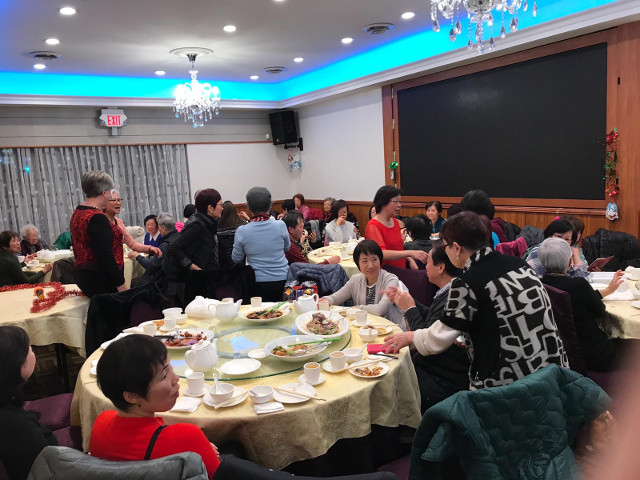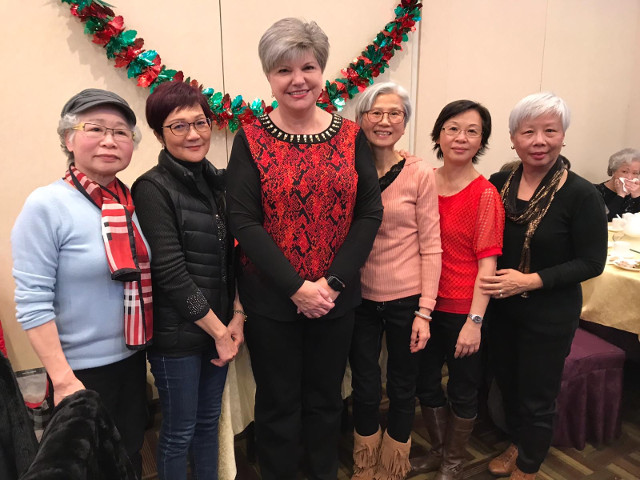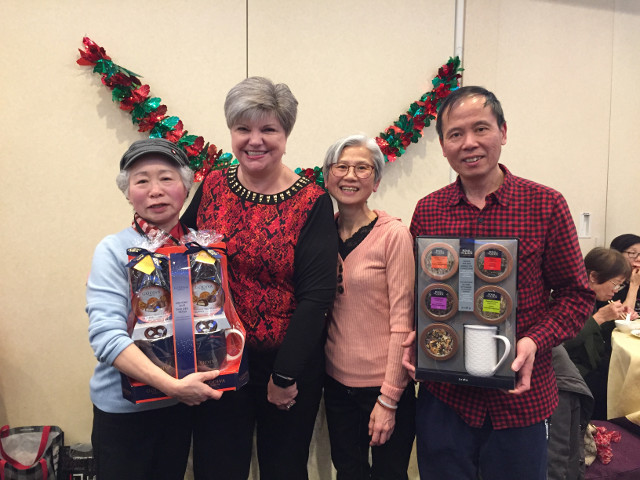 Bonsor 55+ Society Annual Board Retreat - 2019
At 9:00am, Monday, September 30, the Bonsor 55+ Board boarded our bus for a trip to Mayne Island in the Gulf Islands arranged by Paolo (staff) and Ernie our energetic and capable President who drove the bus for the day. This trip was a chance for board members to get to know each other on a more personal level as compared to the more business-like connection at Board Meetings.
The weather was perfect and the sea was calm. After docking at Village Bay on Mayne Island we proceeded to one of the sightseeing stops - the lighthouse. There we wandered, enjoyed the view, took photos and saw a whale breaching in the distance.
After a suitable time enjoying the fresh sea air we travelled to the Bennett Bay Bistro where we enjoyed some appies and some delicious food. Everyone was very impressed, not only with the menu's variety, but also the presentation and quality of the food. Service was excellent!!
Next we drove to see the tranquil Japanese Gardens near Dinner Bay dedicated to the memory and legacy of the Mayne Island's Japanese-Canadian community who were interned at New Denver for the duration of World War 2. When that time was up we headed back to the ferry for the return trip to Burnaby. Again a calm and peaceful crossing. We arrived back at Bonsor about 7:30 PM after enjoying a wonderful, worthwhile day together.
Freda Jenkins