Photo Gallery
Bonsor 55+ Badminton Fall Lunch and Updates
On October 3, 2018, Bonsor 55+ Badminton held a lunch party at Floata Seafood Restaurant in Vancouver's Chinatown. A total of 82 members and guests enjoyed the delicious eight course lunch.
After lunch, we all sang group karaoke. It was great to see everyone participating, singing, and laughing. Even Mary Horton and Peter McConville went up and sang 'Twinkle, Twinkle Little Star'. After singing, we did line dancing which was led by Dora Chan. Many of us joined the dance to burn off the calories from lunch. To top off the fun filled event, everyone received gifts and prizes to take home. All of us had a wonderful time and enjoyed the lunch party.
A big thanks to all our helpers, Peter McConville, Norman Eng, Robert Wang, Dora Chan, Betty Tse, and Stephen Lai. The lunch party would not have been the same without their help. Special thanks to our guest of honour, Mary Horton. We are happy to see the return of the healthy Mary.
Update - 2019 Bonsor 55+ Badminton registration has been successfully completed. 316 people had signed up for 285 openings. A lottery was held on September 25, 2018, to draw 31 names of those who would not be able to join the group in 2019. To all returning members, welcome back! To all new members, welcome to Bonsor 55+ Badminton!

Upcoming – The Bonsor Cup Tournament, to be held on November 23, 2018, is being organized by Robert Wang and Gain Hoy, with Caroline Young who will organize the tournament lunch. It will be another fun filled day for our members.

Submitted by Annie Louie
[Click on thumbnails below to view the photos]

Bonsor 55+ Badminton Tournament 2018 Lunch
After a fun filled tournament in the morning of June 22, 192 members and guests participated in a yummy dim sum lunch held at the banquet hall.
The menu included shrimp dumpling, pork shumai, barbeque pork bun, sticky rice wrap, curry chicken pie, almond cookie, winter melon pastry, and fortune cookie. We also had birthday cake for our long-term member, Dennis Lee, who turned 90 earlier this year. We sang 'Happy Birthday' and wished Dennis all the best.
Lots of time was spent drawing 110 prizes for all the attendees. With lots of laughter and smiling faces, the lunch ended at around 2:30.
By Annie Louie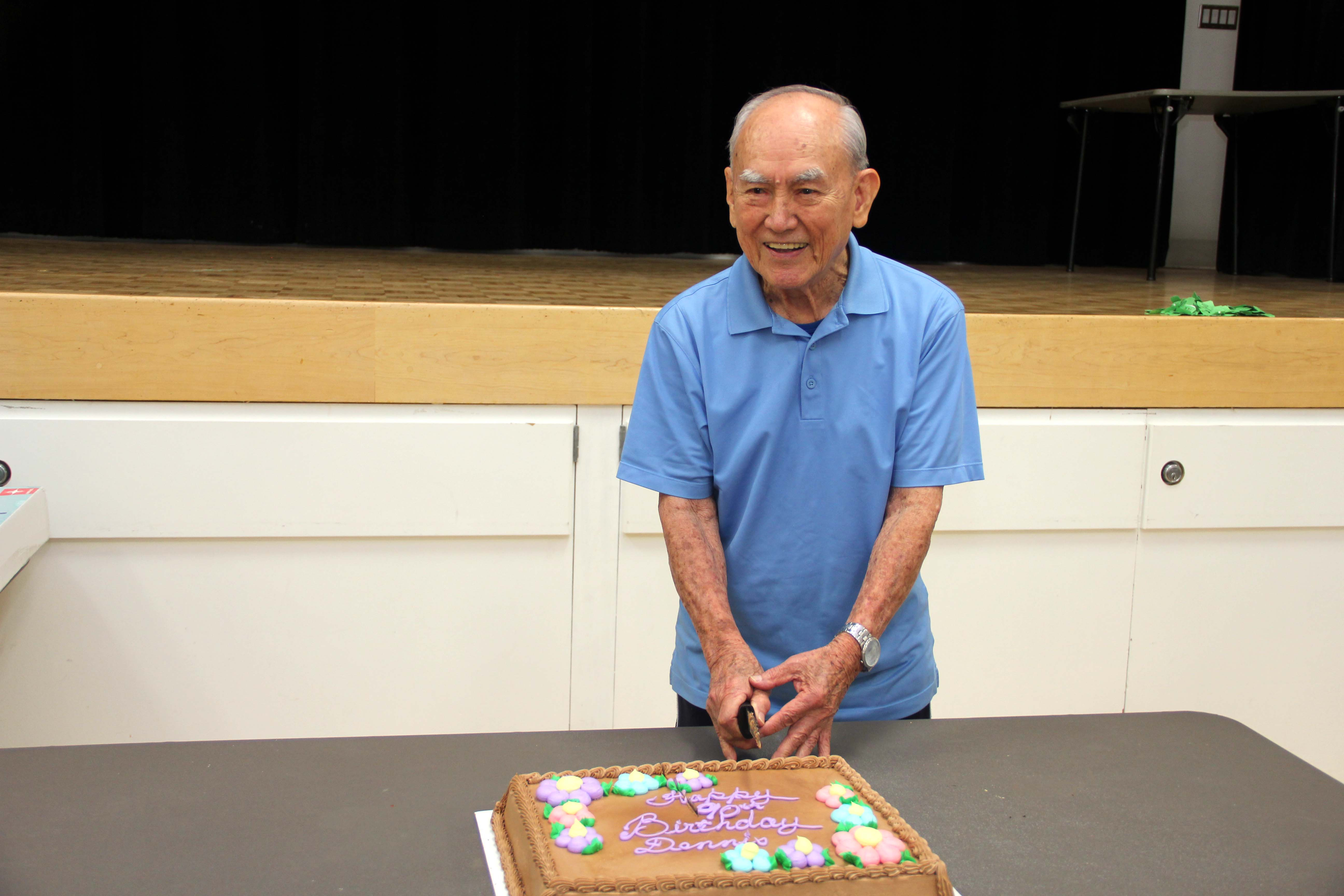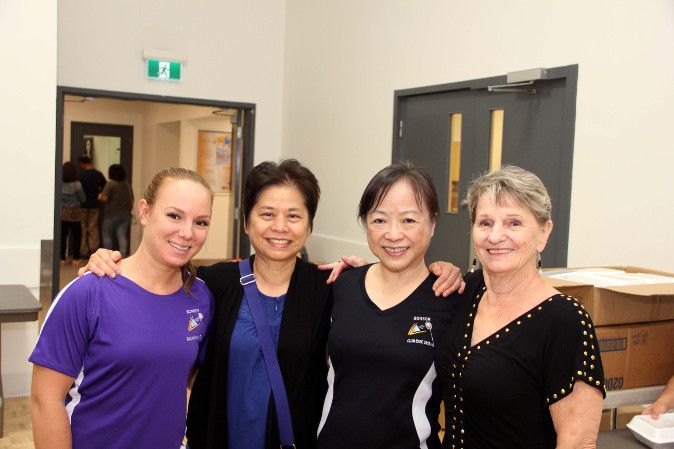 Table Tennis Group Fun Games 2018 Photos
On May 5, 2018 over 60 members of the Bonsor 55+ Table Tennis Group spent a fun fill day at the Bonsor 55+ Center building competing with each others for rights to be called champions. The games were well organized. We have competitive players in the morning and recreational players in the afternoon. We have chicken legs and salad for lunch. We also had a big cake for all to share at the end of the fun game We all had a great time.
We also did clean up after ourselves, making sure that the garbage are separated out properly according to city rules.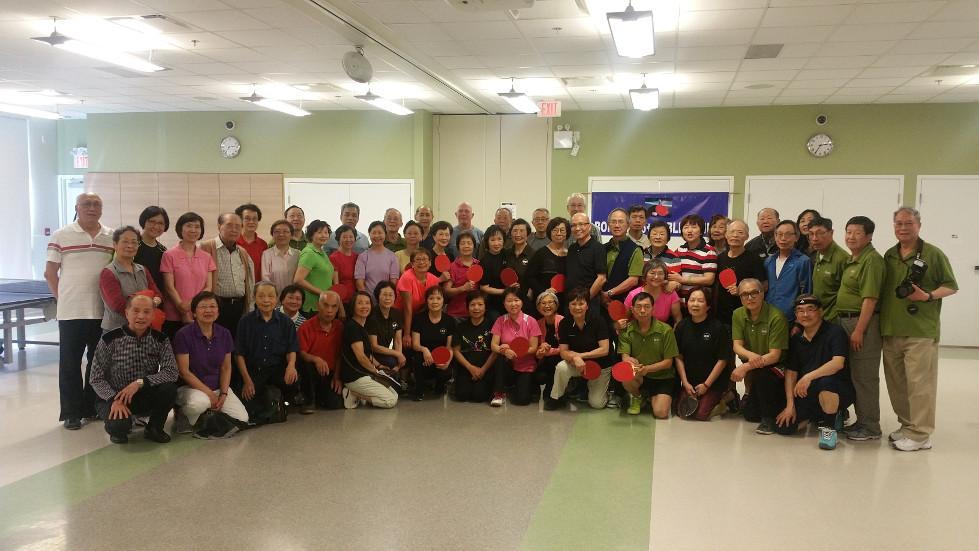 Fun Games 2018 group picture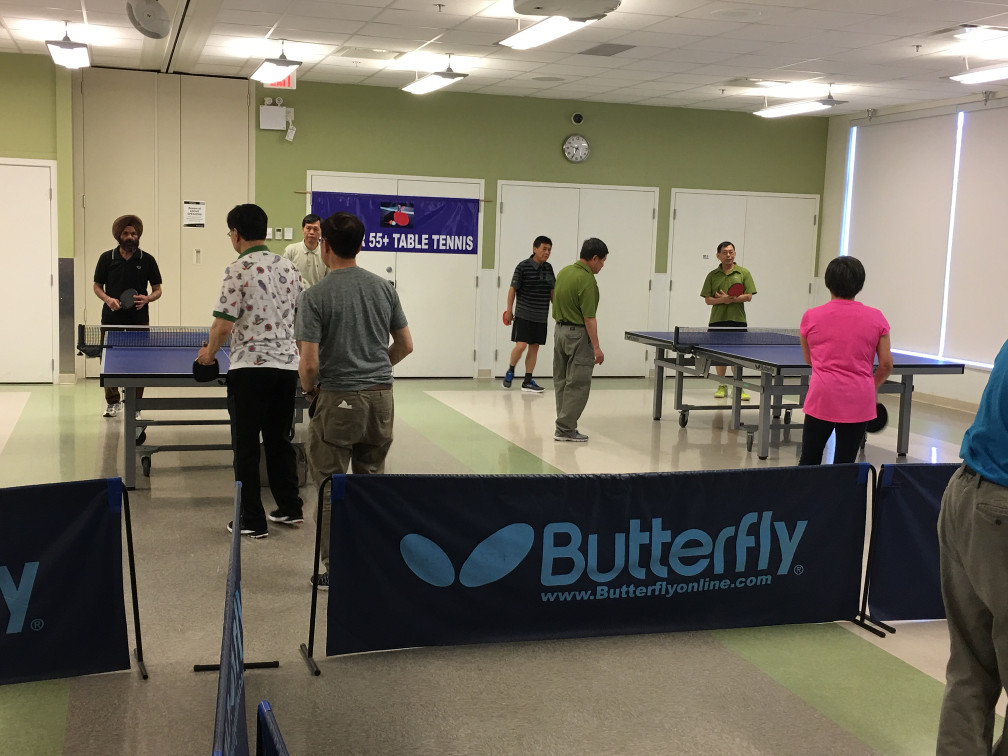 Fun Games 2018 in action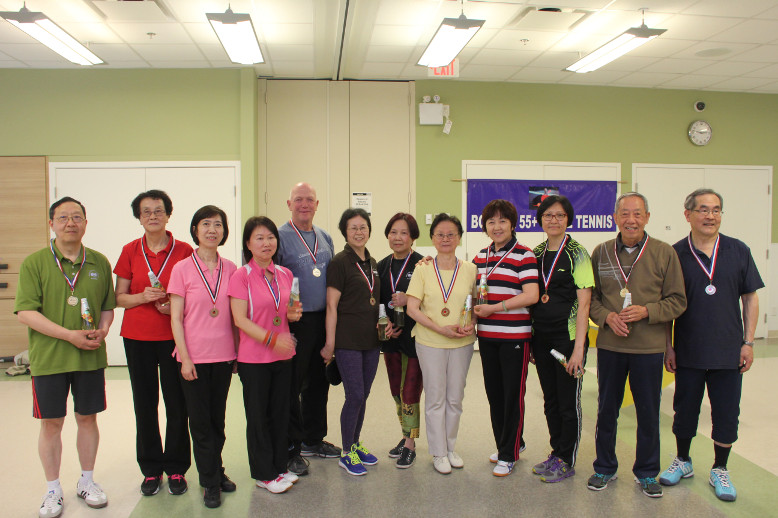 Fun Games 2018 winners
Handicap Billiards 2018
There is always cause for celebration and good food with this group, and once again they have yet another celebration! What a fun group they are, and anyone interested is invited to join, regardless of their level of expertise. Thankfully the Board and staff are always invited to the party.
[Click on thumbnails below to view the photos]

Computer Group Christmas Party 2017
On December 19, 2017, the Computer Group Drop-in held its first Christmas Party. Everyone was in high Christmas spirit and had a great time eating and drinking to the sound of Christmas music videos playing over the giant TV screen in the room.
[Click on thumbnails below to view the photos]

Mahjong Christmas Party 2017
This special event was held on Wednesday, November 8 at Wei Do Cafe on Kingsway. 60 Mahjong players were in attendance. The group kicked off the event by having a Fun Mahjong Tournament and Willie Yuen was crowned the Mahjong Queen 2017 of Bonsor 55+ Mahjong Group. There were lots of cash prizes and gifts for Lucky Draw and Table Prize winners. All the fantastic prizes were donated to the group by three generous mahjong members and the restaurant. Everyone had a blast at the party.
[Click on thumbnails below to view the photos]