Bonsor 55+ Society Line Dance Event
How many could line dance at 100 years of age? We have one at Bonsor Recreation Centre in Burnaby, BC.! An enjoyable line dance event happened on August 3, 2022: a celebration of JOYCE CHONG's centennial milestone at the Bonsor Recreation Centre banquet hall.
A few Board members of Bonsor 55+ Society, namely, Mary Horton, Pat Couch, Freda Jenkins and Shirley Noble were present and expressed their well wishes to Joyce on behalf of the Board. The Hall was decorated with colourful balloons and there was a lot of food for everyone including Joyce's favourite delicious mango birthday cake. Over 65 people attended the party including a surprise visit from Joyce's nephew and family from Calgary, to celebrate with Joyce. Everyone was line dancing, socializing and enjoying the event, singing Happy Birthday to Joyce. She is an inspiration to all of us, a fantastic, lovable and amazing lady. Maggie Bretton, our line dance instructor gave a lovely speech on behalf of the line dance group and led us through many fun dances.
A big thank you to the staff at Bonsor 55+ Centre, especially Brett Boland, and to the volunteer team led by Lily Chew and Daisy Chan. Thank you, of course, to Joyce Chong for hosting the party.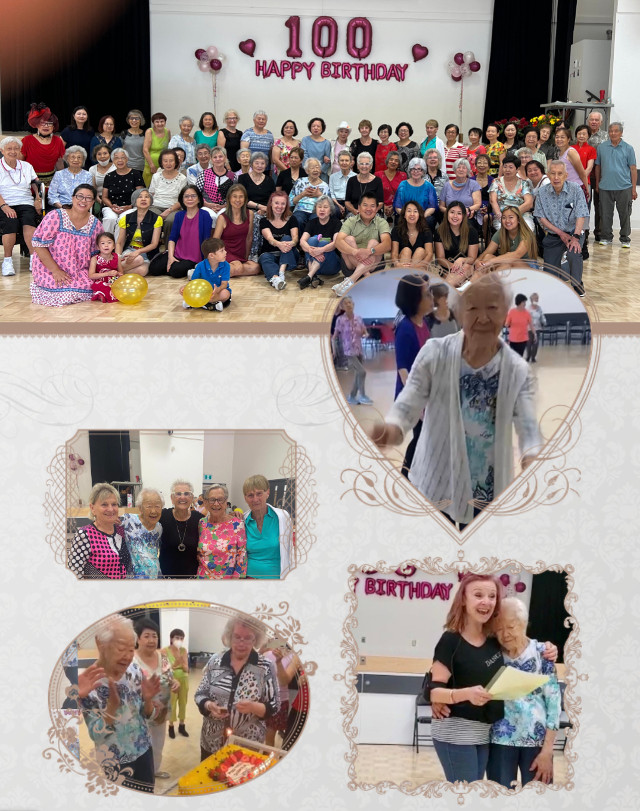 Line Dance Practice Group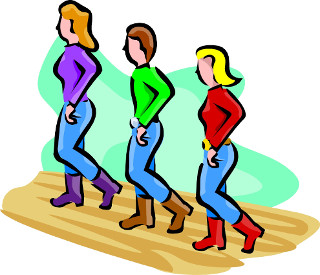 The Bonsor 55+ Society Line Dance Practice group was officially started in March 2022.
The Line Dance Practice group was started, albeit not officially under the umbrella of the Bonsor 55+ Society, as an off shoot of the Line Dance Classes held at the Bonsor Recreation Centre about 20 years ago. Only participants in the line dance classes at various levels could come into the practice sessions.
Currently, as an official Bonsor 55+ Society program, we have openly invited line dancers registered at all levels in the Line dance classes at the Bonsor Recreation Centre to participate in these practice line dance sessions. A donation of $10 per fiscal year to the Bonsor 55+ Society is required. The practice sessions run only when line dance classes are on. It is scheduled for every Thursday at 1.30-3.00pm.
The purpose of this line dance practice group is to provide an opportunity for all participants in the Bonsor Line dance classes to review line dances taught in the classes. It provides an avenue to review in an informal setting and to socialize with one another. The sessions are run by volunteers.
Social Line Dancing Celebrates Return to Bonsor 55+ Society
The Social Line Dance group reopened in April 2022 after a shutdown of more than two years due to Covid. All members have been wanting a get-together after such a long, long time, to re-energize our mind, body and soul.
That materialized on August 17 at the Grand Crystal Seafood Restaurant. A total of 49 people attended. There were only 8 to a table to allow more personal space. Masks were recommended and hand sanitizers were provided at the door.
Our board liaison, Louise Kowalenko, was kind enough to attend and brought along a big gift for our lucky draw, on top of some other door prizes comprising coupons for the Grand Crystal Seafood restaurant, T&T supermarket, the Real Canadian superstore and Maxim bakery.
There were sumptuous food and delightful line dancing throughout and after dinner. Everyone had a wonderful evening making up for lost time and renewing some friendships.
No associated covid cases were reported afterwards.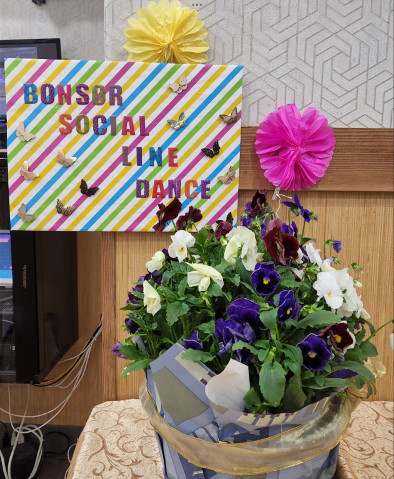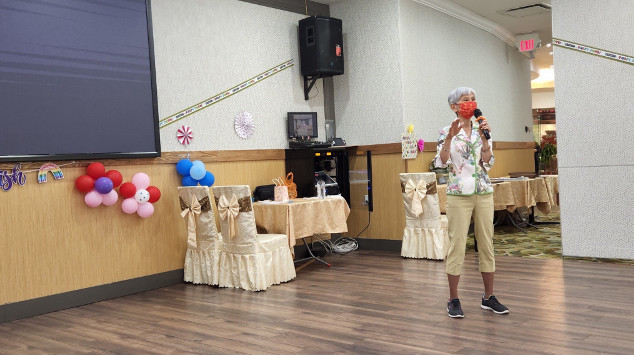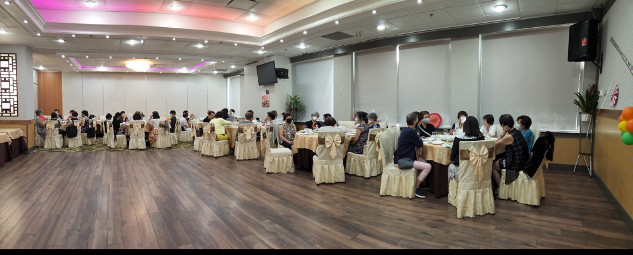 Traditional Tai Chi (Double Yang) Group Update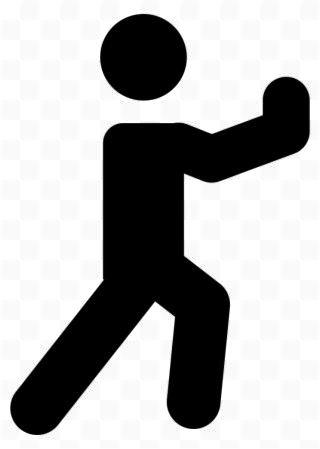 Tai Chi (Double Yang) Group has resumed post-pandemic, and welcomes new members.
Tai Chi improves physical balance, stability and agility through proper breathing and all-round physical movements. The Group has around 30 members, and practices under the leadership of Master Victor Chow who has been a Tai Chi practitioner for over three decades.
Practice times are:
Tuesdays 9:00 – 11:00am
Fridays 9:00 -11:00am
Saturdays 9:00 – 10:30am
For further information, please contact David Chai by email at This email address is being protected from spambots. You need JavaScript enabled to view it. or by phone at 604-294-1057.
Bonsor Seniors Badminton Summer 2022 Celebration
After two and half years in hiatus, the badminton group held its first social event on July 14, 2022. It was a banquet style dinner at Grand Crystal Seafood Restaurant in Crystal Mall.
Due to concern of Covid, we were expecting no more than 100 people. However, 144 people signed up to join the dinner. Members were eager to meet up with their old friends and also enjoy a nice dinner.
For the Covid safety procedure, masks and hand sanitizers were provided at the door. We also decided not to have karaoke and dancing as a precaution. We asked all members to wear a mask at all times and try not to move from table to table (of course this request flew out of the window quickly).
Dinner was supposed to start at 6:30pm. However, a few eager members showed up around 5pm. By 6pm, the place was bursting with people greeting each other, laughing and chatting. It was so noisy everyone had to raise their voice in order to be heard.
We had the honour to have Mary Horton, our liaison from the 55+ Society, joined our dinner and gave a lovely speech. The dinner was followed by the 1st round of door prizes draw. We had an excellent dinner menu which included lobster, steamed fish, chicken etc., and then rounded off with a delicious baked tapioca pudding and petite pastries. The event wrapped up with another round of prize draw.
Special thanks to Norman Eng who compiled a short video full of snap shots of our previous events in the last 10 years. Cheers and laughter could be heard from time to time when members saw themselves in the video. Ohh, what a nostalgic video!!
In all, the event was a success. Everyone had a good time catching up with old friends and there was no Covid outbreak afterwards.
By Caroline Young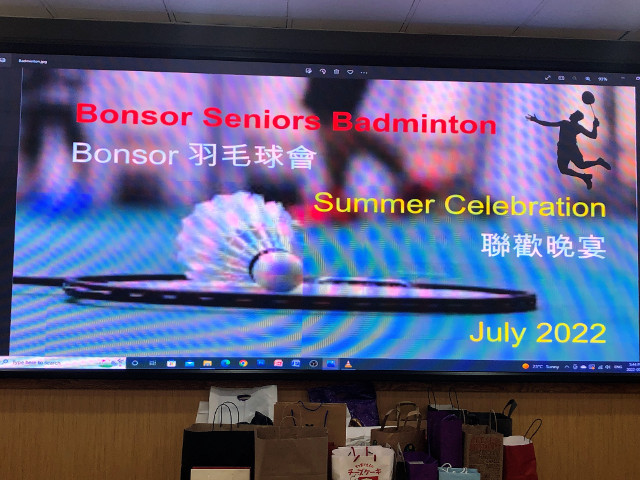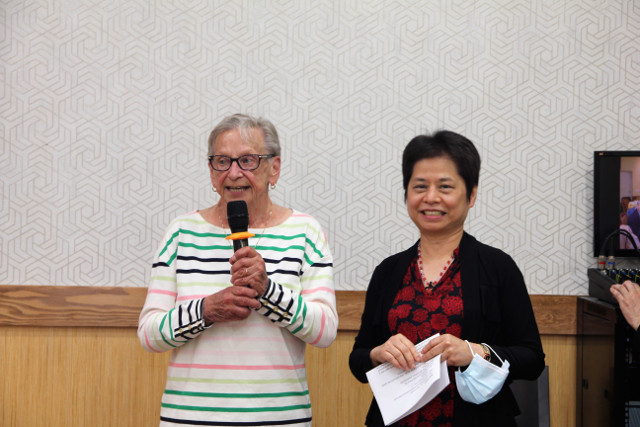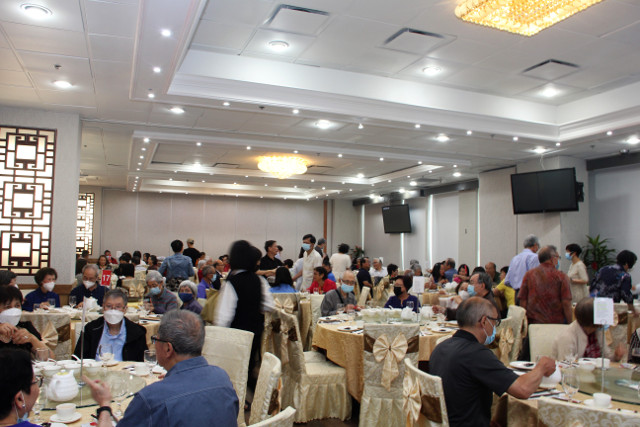 Mulberry Art Walk Successfully Held
The Bonsor 55+ Open Arts Group was invited to participate in the Mulberry's annual ART WALK featuring the artistry of Burnaby Seniors.  The works on display showed an amazing amount of talent!  How wonderful to have an opportunity to show the public another example of how our seniors contribute to the community while keeping active and utilizing their talents in a friendly social environment.  New members are always welcome!