Help Connect - Donate Your Tech!
There are many Seniors, Families and Individuals in Burnaby in need of phones, tablets and computers (laptops) to stay connected during COVID-19.
If you have an old cell phone, tablet or laptop, Digital Access Burnaby* will distribute your donated device to those in need through our non-profits and social service agencies.
Please support our Tech Donation drive by emailing, posting, tweeting, etc. the poster below.
Donate Cell Phones and Tablets here:
- Burnaby Neighbourhood House (North) – contact This email address is being protected from spambots. You need JavaScript enabled to view it. or 604-294-5444 before dropping off
- Burnaby Neighbourhood House (South) – contact This email address is being protected from spambots. You need JavaScript enabled to view it. or 604-431-0400 before dropping off
Or
Drop off in person at the front door of Edmonds Community School, 7651 18th Avenue, Burnaby on Mondays or Fridays from 9 am to 2 pm or call 604-296-9012.
Donate old computers and laptops here:
BC Tech for Learning - call 604-294-6886 ext. 3 or This email address is being protected from spambots. You need JavaScript enabled to view it.
*Digital Access Burnaby in an initiative of the Burnaby Inter Agency Council and the Burnaby Primary Care Network COVID-19 Response.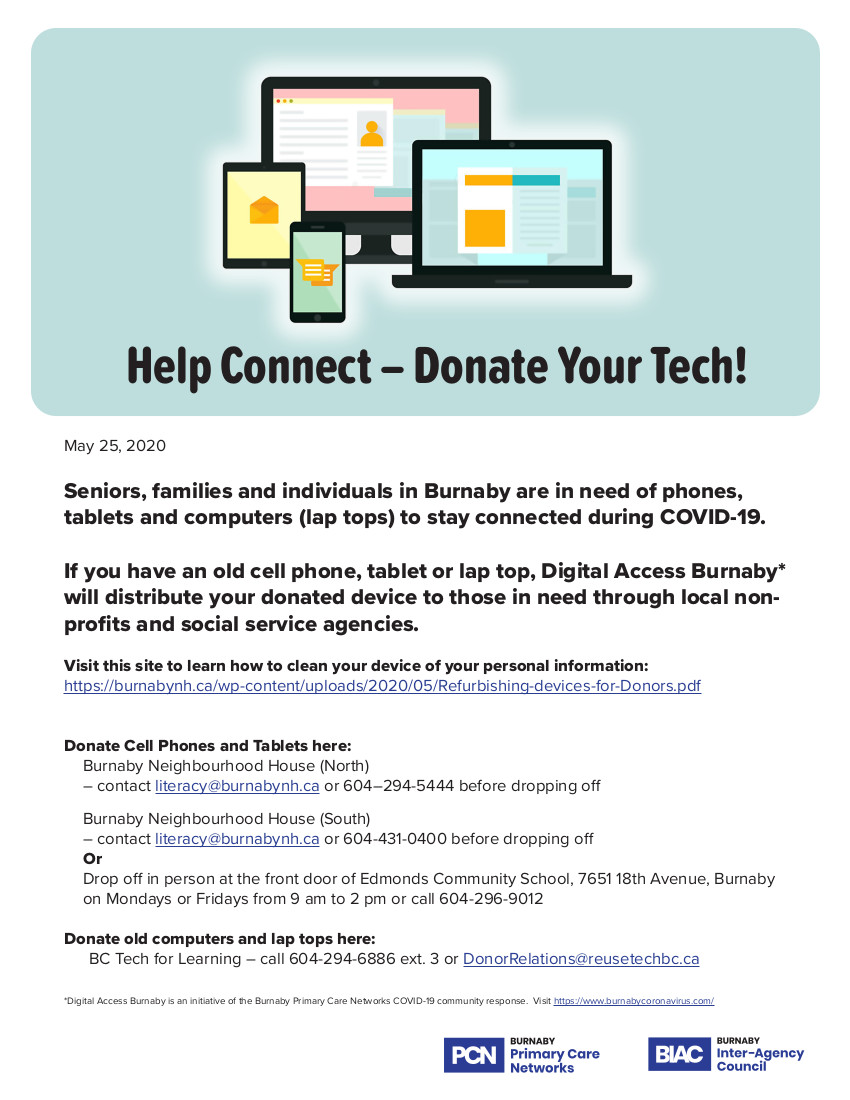 Are you a Senior in Burnaby Who Needs Help?
Some useful numbers and links for seniors in Burnaby who need help during these challenging times.
[Click on image below for the full poster in pdf.]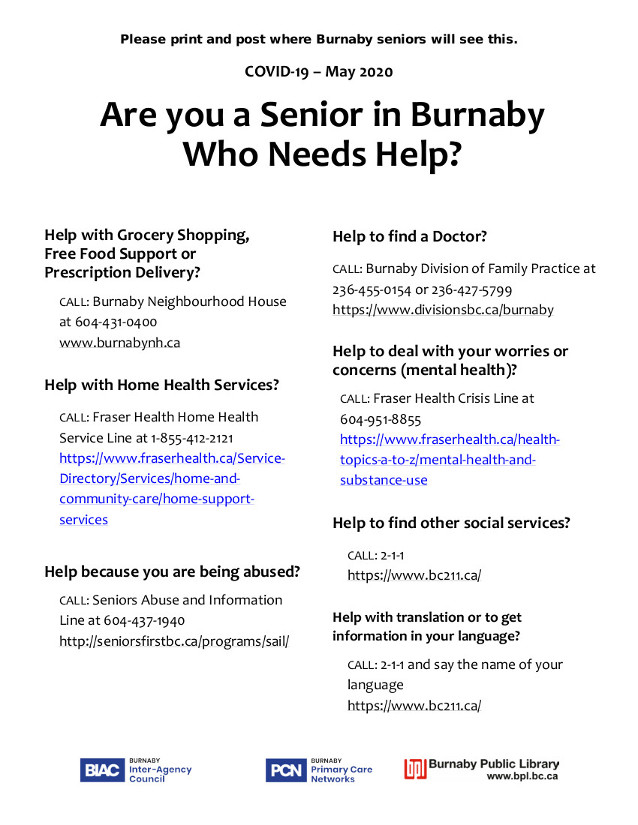 Poster in other languages:
Arabic Chinese Traditional Chinese Simplified Farsi Hindi Korean Punjabi Spanish Tagalog
COVID-19 Related Scams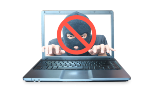 Fraudsters are using the coronavirus outbreak as an opportunity to try and trick the public with new phishing emails, phone calls and text messages.
Seniors First BC has compiled a list of the most common COVID-19 related scams.
COVID-19: Resource List for Seniors at Home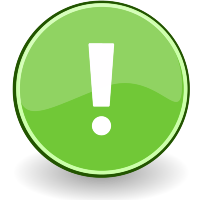 Below is a listing of resources which may be useful for those seniors who are in isolation at home.

City of Burnaby Emergency Call Centre
604- 570-3800
Burnaby Coronavirus Information Centre (self-assessment, testing)
burnabycoronavirus.com
Food Bank
604-876-3601
foodbank.bc.ca
Meals on Wheels
604-299-5754
Service Canada
(OAS, CPP, Veterans Affairs, Canada Revenue)
1-800-622-6232
Burnaby Neighbourhood House
(Help applying for benefits)

604-294-5444
burnabynh.ca
BC 211
(General resource and referral)
211
Health Link BC
811
BC Nurse Line
1-866-215-4700
Burnaby Seniors Outreach Society
(Resource, referral, support)
604-291-2258
bsoss.org
Burnaby Community Services
(Resource, referral, support)
604-299-5778
bbyservices.ca
Citizen Support Services
(Volunteer Grocery Shoppers)
604-294-7980
Burnaby Hospice Society
(Support in Grief)
604-520-5024
burnabyhospice.org
COVID-19: Website for Burnaby Residents on How and Where to Seek Care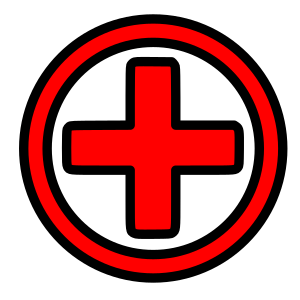 Burnaby residents and patients of Burnaby Physicians and Nurse Practitioners can access the website burnabycoronavirus.com for information about how and where to seek care regarding COVID-19.
This is a new website, hosted by the Burnaby Primary Care Network, in collaboration with the City and other service providers. Currently, it offers a link to the COVID19 self-assessment tool, which steers people who may be sick to the appropriate course of action, including telephone and video conference consultation with a physician, and screening appointments where appropriate. Soon, the site will be expanded to include links to the various services available for people who have been affected socially and financially by the Coronavirus. The site is constantly being updated to stay in compliance with the latest information and criteria from the BC Centre for Disease Control. It is an excellent, accurate, and up-to-date resource.