BPL - Learn How to Use Zoom for Seniors
Seniors! Here's your chance to learn how to use Zoom.
Get one-to-one instruction on how to use Zoom on your computer, laptop, tablet, smartphone or even your telephone. See the poster below for more information.
If you'd like to book an appointment, contact Alex at 604-297-4952 or email This email address is being protected from spambots. You need JavaScript enabled to view it..
(Please include your first name, contact email or phone number and the Seniors Community Centre location most convenient for you.)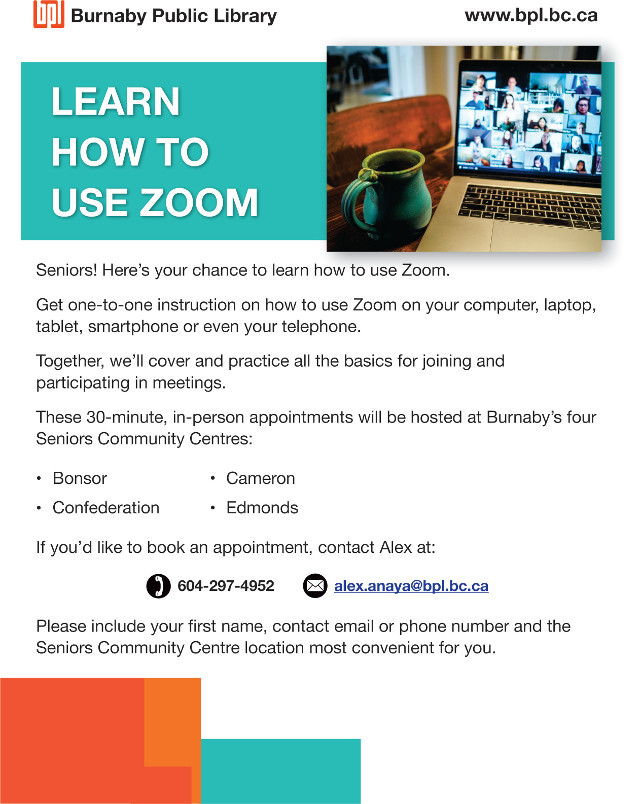 Burnaby Community Fridge Program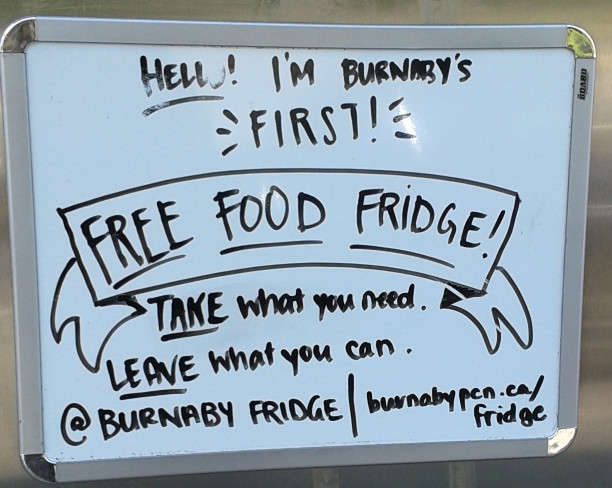 This program from Burnaby Primary Care Networks will provide in a safe, low barrier and nonjudgmental way food for people in the neighbourhoods to give and take, to reduce waste and feed their children better. It builds and enhances food security in Burnaby for those in need.
The first location is outside the Burnaby Youth Hub at 4750 Imperial Street. Please go and check it out, and feel free to take something or leave something! For more information on what items are accepted for the fridge please view the FAQ here.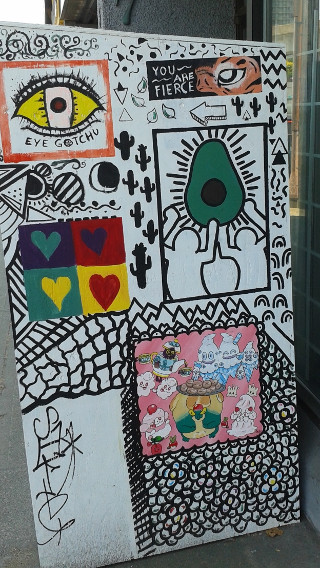 National Long-Term Care (LTC) Services Standard Survey
The Standards Council of Canada (SCC), Health Standards Organization (HSO) and Canadian Standards Association (CSA Group) are working collaboratively on developing two new national standards for LTC that will be shaped by the needs of residents, families and Canada's LTC workforce.
The bodies involved in the development of these standards want to hear from Canadians and what matters most to them when it comes to long-term care. The responses will help shape what an optimal future state of LTC ought to look like in Canada.
Provide your input by taking the survey.
Do You Need Tech Help?
Burnaby Neighbourhood House offers in-person and virtual technical help for computers and mobile devices.
Computer Drop-in In-person
North House
Wed: 10:00am-2:00pm
Call: 604-294-5444
*By appointment only.

South House
Mon: 12:00-2:00pm
Thurs: 3:00-5:00pm
Call or text: 604-396-7307
Email: This email address is being protected from spambots. You need JavaScript enabled to view it.
*By appointment only.

One-on-one Support
Online or in-person with a volunteer, flexible hours, multiple languages offered.
Call or text: 604-396-7307
Email: This email address is being protected from spambots. You need JavaScript enabled to view it.
*By appointment only.

Online Web Cafe: Online via Zoom
*Registration required.
Monday: 12:00-2:00pm
Register for Mondays

Thursday: 3:00- 5:00pm
Register for Thursdays
YWCA TechLink
Do you find yourself needing support with everyday IT and tech from time to time? Contact YWCA TechLink for free, friendly tech support!
YWCA TechLink is a free IT and tech support service based in Vancouver, staffed by Lower Mainland residents who have a background in technology. TechLink will be offering free IT and tech support over the phone and virtually, to support you with any general tech-related queries you might have, such as how to set up devices, make video calls, access government services, and more.
All you need to do is book your call-in!
To book your call-in and learn more:
Web: ywcavan.org/techlink-support
Email: This email address is being protected from spambots. You need JavaScript enabled to view it.
Phone: 1-833-386-4129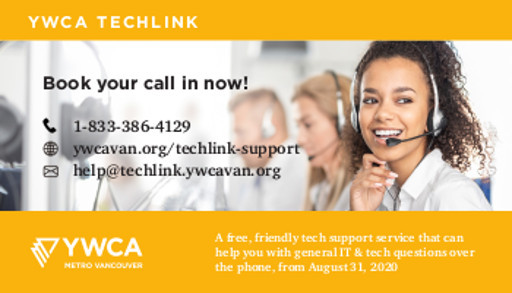 Digital Access Burnaby Fundraiser
Seniors, families and individuals in Burnaby are in need of phones, tablets and computers (laptops) to stay connected during COVID-19. Burnaby needs your help! Many people in Burnaby still do not have a device that can connect to the internet.
THIS IS NOT OKAY!!!
Since COVID-19, Burnaby Neighbourhood House (BNH), in conjunction with Digital Access Burnaby, have been seeking donations of used tech devices and have recently received a donation of tech devices from Microsoft and an anonymous donation of $1000. These are amazing contributions! But too many people still need devices.
The Digital Acess Burnaby fundraiser has been created on GoFundMe to raise more funds for this important project.
For more details on donations and how you can also donate your devices, please visit the Digital Access Burnaby GoFundMe page.